Taco Recipe Ideas HERE! Taco Tuesday is everyone's favorite night. A night filled with family, tacos, and all of the best food. Here are some of the best taco night ideas to inspire your feast!
Taco Tuesday: 40 Best Taco Recipe Ideas
Taco Tuesday is my favorite night of the week! I love gathering family and friends for a casual dinner centered on one of my favorite foods. I can never get enough Mexican food in my life, and tacos are one of the best parts.
You can do so much with tacos. They're a simple food but there's room for creativity. You can add any ingredients you want to create your dream taco! I especially love creating a buffet style taco night, where you just set out the ingredients and let everyone assemble their tacos just the way they like them.
I've gathered all the best taco night ideas from me and from other bloggers. These recipes are all about tacos, dips and quesos, the perfect side dishes for tacos, and a few Mexican inspired recipes that aren't tacos, just in case you want something different. I won't hold it against you if you make nachos or enchiladas on Taco Tuesday!
Let these recipes, tips, and ideas inspire you, whether taco night is on Tuesday, Friday, or Sunday…because every night of the week is perfect for tacos!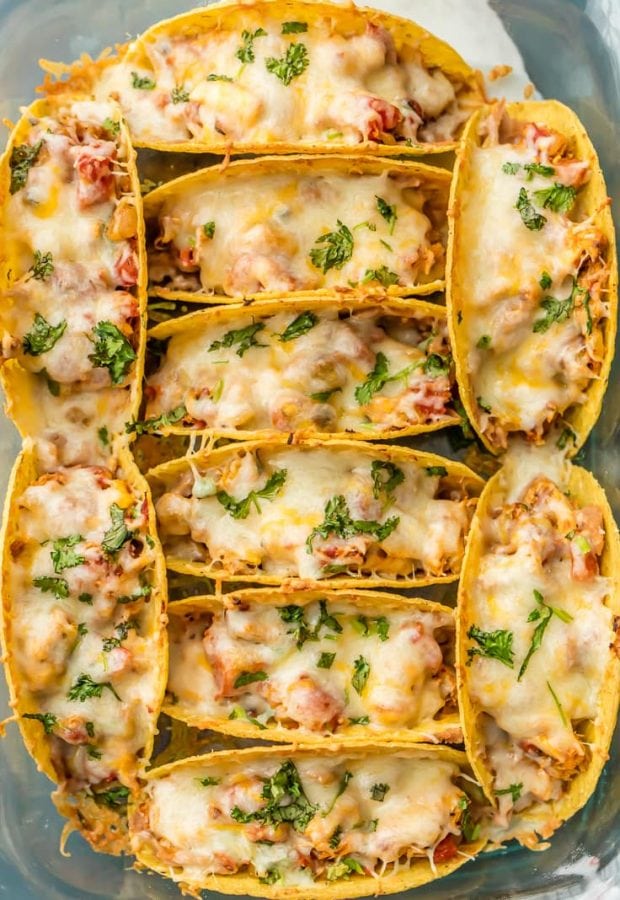 40 Best Taco Night Ideas
Find easy recipes for tacos, side dishes, drinks, dinner ideas, and more for your weekly taco night. Doesn't matter if it's Tuesday, Friday, or any other day, these dishes will be perfect!
Best Taco Recipes
You can't have Taco Tuesday without tacos! Here are our favorite recipes using beef, chicken, turkey, or seafood.
More Tacos
More Taco Recipes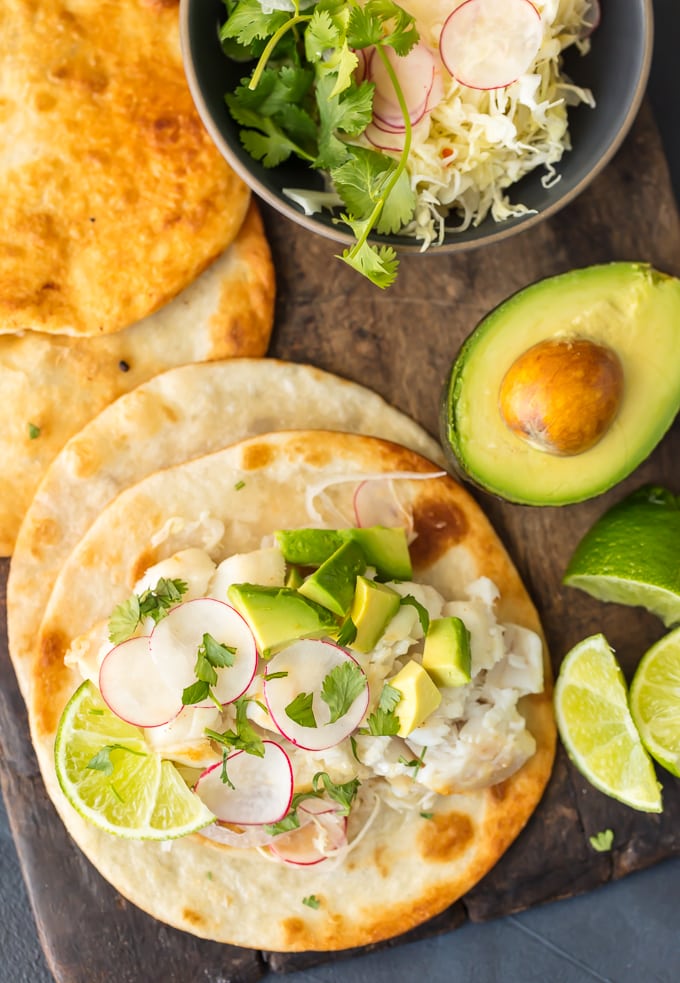 Dips, Salsas, and Quesos
The best salsa, queso, guacamoles, and more to pair with tacos. Top it or dip it!
More Dip Recipes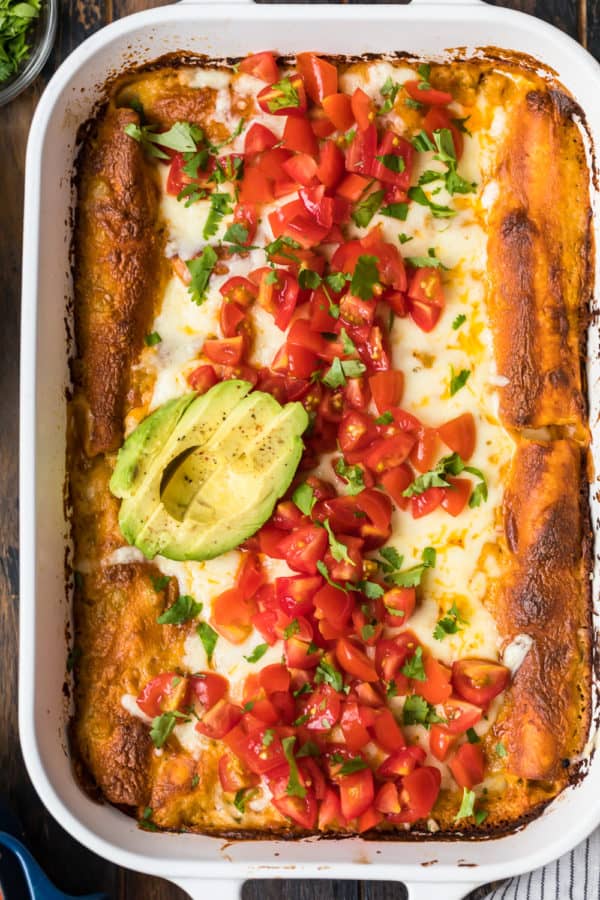 Dinner Ideas (Besides Tacos)
Every Tuesday is Taco Tuesday, but sometimes you might want something besides tacos. These Mexican dishes will make the perfect dinner!
Mexican Recipes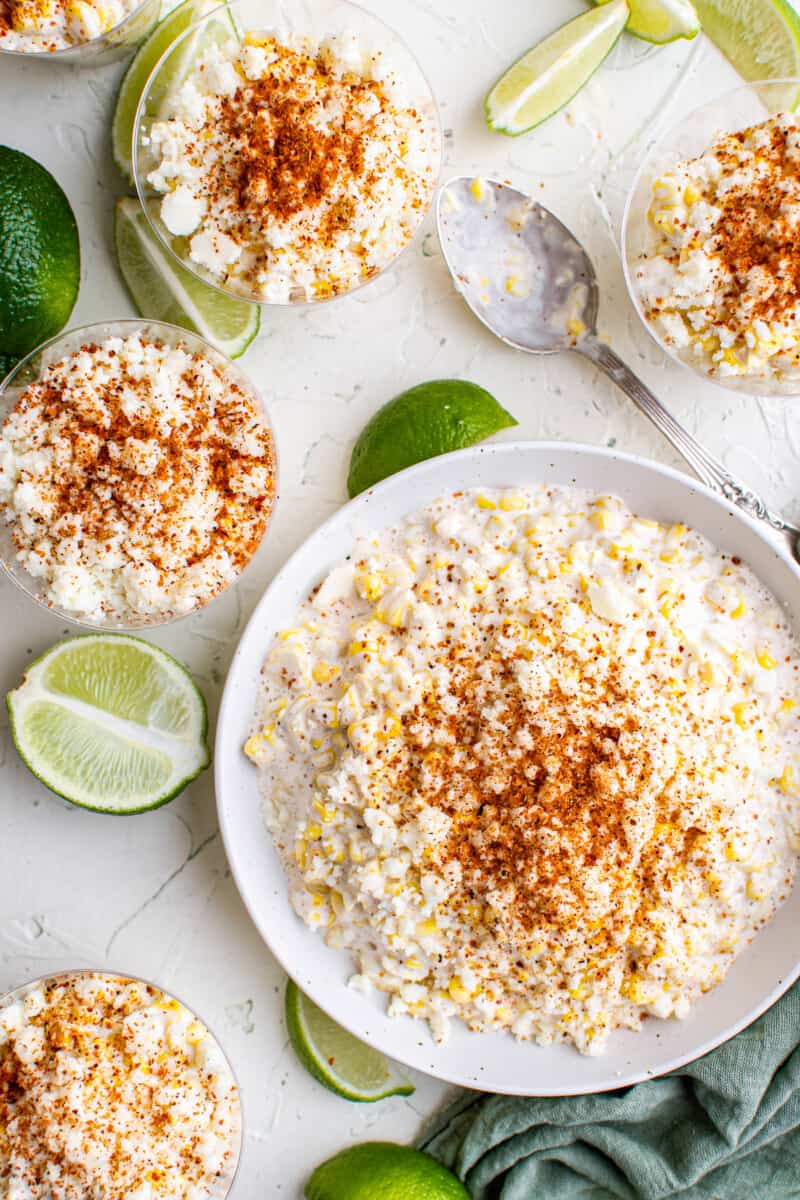 Best Side Dishes for Taco Night
These easy side dishes pair perfectly with tacos, enchiladas, burritos, or any Mexican dishes. Serve these on the side, or pile them into a taco shell!
More Sides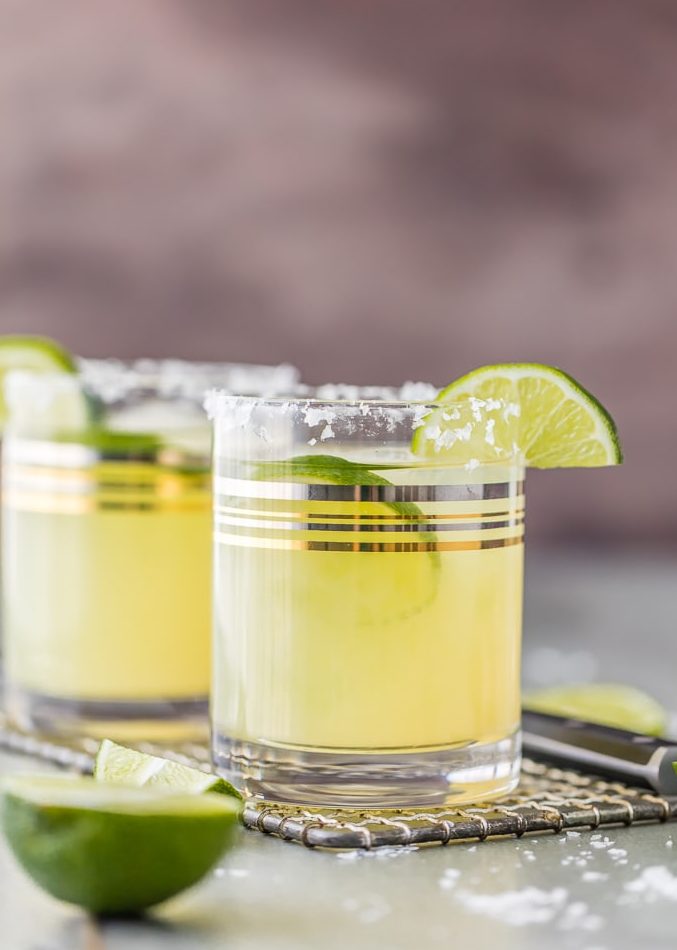 Best Margaritas for Taco Tuesday
If you're planning a big Taco Tuesday night for you and some friends, you can't skip the margaritas! A refreshing margarita really completes taco night, and I've got some great recipes for you to try.
Helpful Tools
Tacos are pretty straight forward. You just need your basic kitchen tools, pots, and pans to cook everything.
Ingredients List
Get as creative as you want with your taco ingredients! But these are the typical taco toppings that are perfect for any taco night.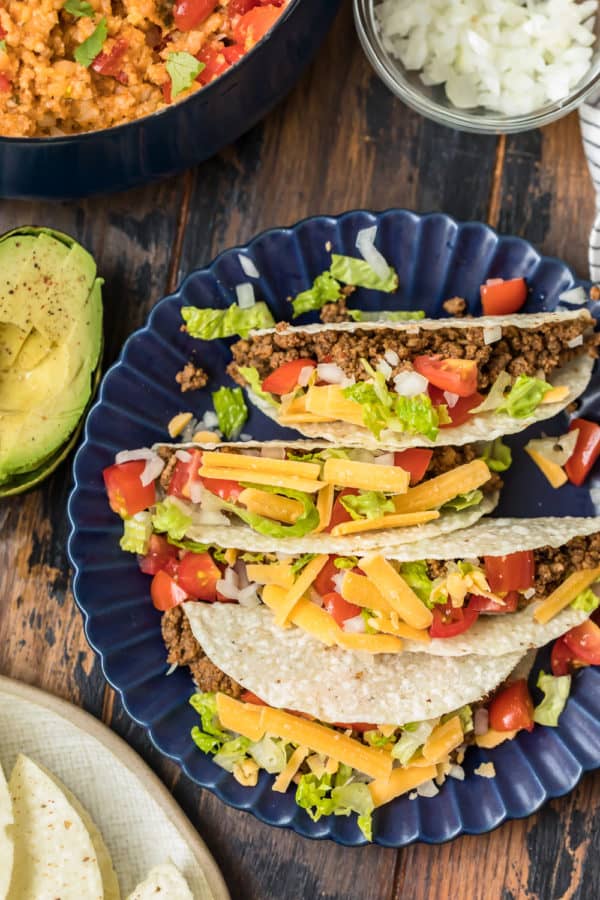 What do I need for Taco Night?
When prepping for taco night, you need all your favorite ingredients to assemble tacos. This is flexible and totally up to you! You definitely need tortillas, some kind of filling (can be meat, seafood, beans, or vegetables), cheese, and lots of extra toppings to complete the tacos.
It doesn't hurt to have some queso (or another dip), tortilla chips, and a couple of other side dishes either.
How can you keep tortillas warm?
You want fresh, warm tortillas throughout dinner, not just during the first round of tacos. The best way to keep tortillas warm is to wrap small stacks of them in aluminum foil, and set them in the oven (or toaster oven) on a low temperature (175F or so). You can also keep them warm in a slow cooker.
What are some toppings for tacos?
The fun thing about Taco Tuesday is it gives you a chance to get creative. You can really make any kind of taco you want! If you want to keep it classic, the best taco toppings are cheese, pico de gallo, lettuce, tomatoes, and sour cream. But you can also add in caramelized onions, jalepenos, green chiles, beans, and more!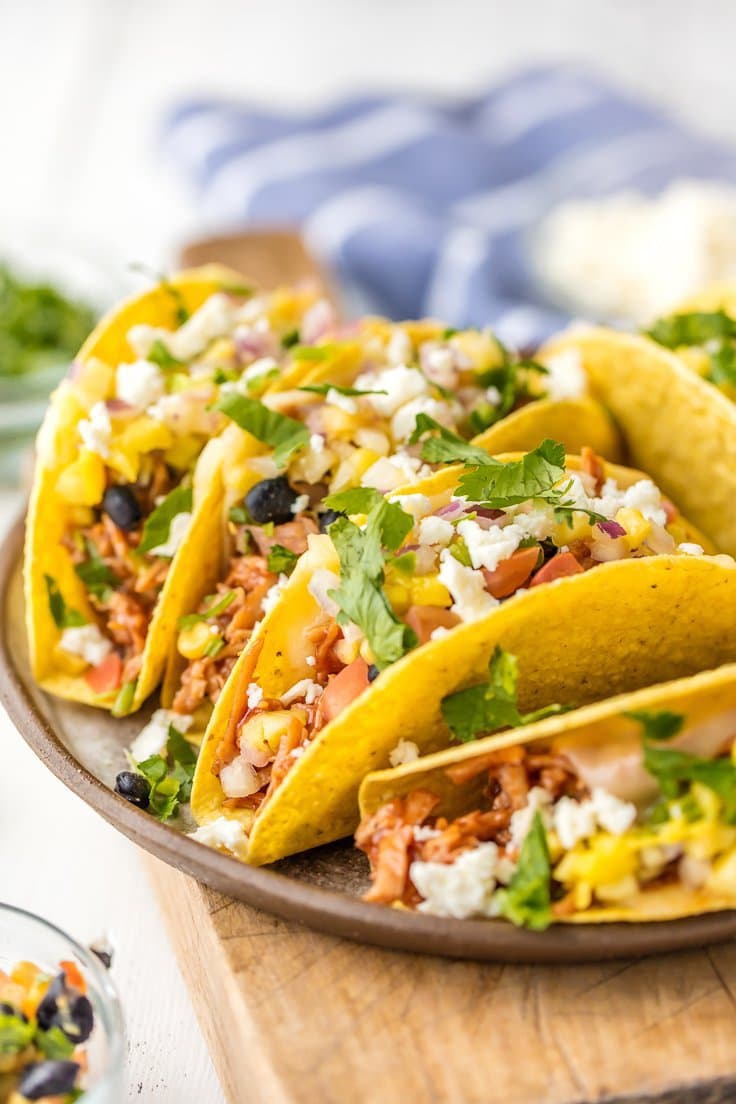 What is a good dessert to serve with tacos?
After a huge feast, you still want to serve a tasty dessert to complete the meal. Making a giant cookie topped with ice cream is a really fun shareable dessert to serve on taco night with your family.
These crispy cinnamon sugar biscuit bites are another great option, or you can make these apple pie taco boats! And of course these churros with chocolate sauce are a must.
What do you put in taco meat?
My favorite seasonings and spices to add into taco meat are chili powder, cayenne pepper, red pepper flakes, paprika, and other things that add a bit of spice. You can also cook meat along with onions, garlic, peppers, tomato sauce, etc. to get those flavors mixed into the taco meat.
How do you make hard taco shells?
Making hard taco shells is easy. Just use your soft tortillas (flour or corn) and you can bake them in the oven to make them crispy, using the oven rungs to shape them.
Preheat oven to 300

F.

Lightly coat the soft tortillas with oil

.

Drape each tortilla directly over 2 rungs of the oven rack

.

Let the tortillas bake for about 15-20 minutes (when the edges start to brown, they're ready to take out)

.

This will give them the shape of a hard taco shell and make them nice and crispy

.
Another option is to fry the tortillas in a skillet in oil. This will make them extra crispy but it won't give them that boat shape easy for filling.
What is in taco seasoning mix?
In most taco seasoning mixes, you'll typically find things like salt, chili powder, onion powder, red pepper, and other possible spices.
Here's what I recommend adding into a homemade taco seasoning mix:
Red pepper flakes

Chili Powder

Garlic Powder

Cumin

Onion Powder

Salt

Paprika

Oregano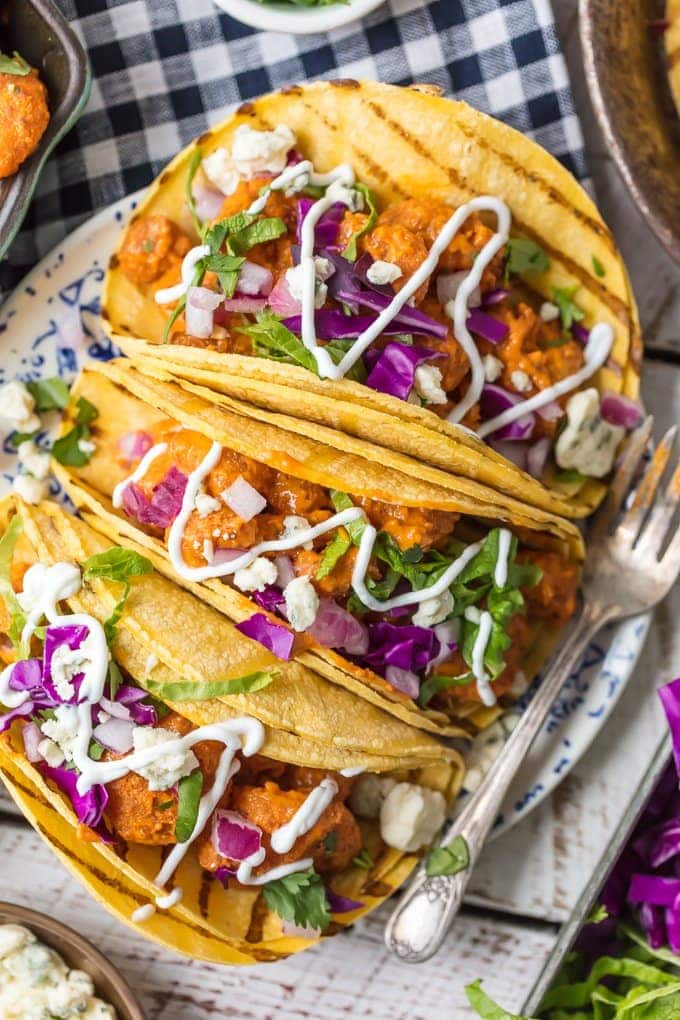 I hope this guide inspires you to make the BEST Taco Recipes for the ultimate Taco Tuesday feast ever (or for Cinco de Mayo)! All of these taco night ideas are perfect for dinner, no matter what day you decide to eat tacos. Enjoy!
More Taco Night Ideas
Whether it's Taco Tuesday, Cinco de Mayo, or any other day of the year, it's always a good time for tacos! Try these other recipes to help fill in your menu.
More Recipe Ideas
How to Make Taco Meat
If you just want a simple taco meat recipe for classic ground beef tacos, this recipe is for you! This quick taco meat recipe will show you how to get perfectly seasoned ground beef for Taco Tuesday.
Just fill up a taco shell with the beef, and add cheese, lettuce, diced tomatoes, and sour cream (or any toppings you want).