One of my favorite on-the-go breakfasts is a bagel sandwich. This simple Blackstone Steak and Egg Bagel Sandwich is perfect to wrap up in foil and take with you on the road, or to make a big batch of to freeze for a quick breakfast for hungry school kids.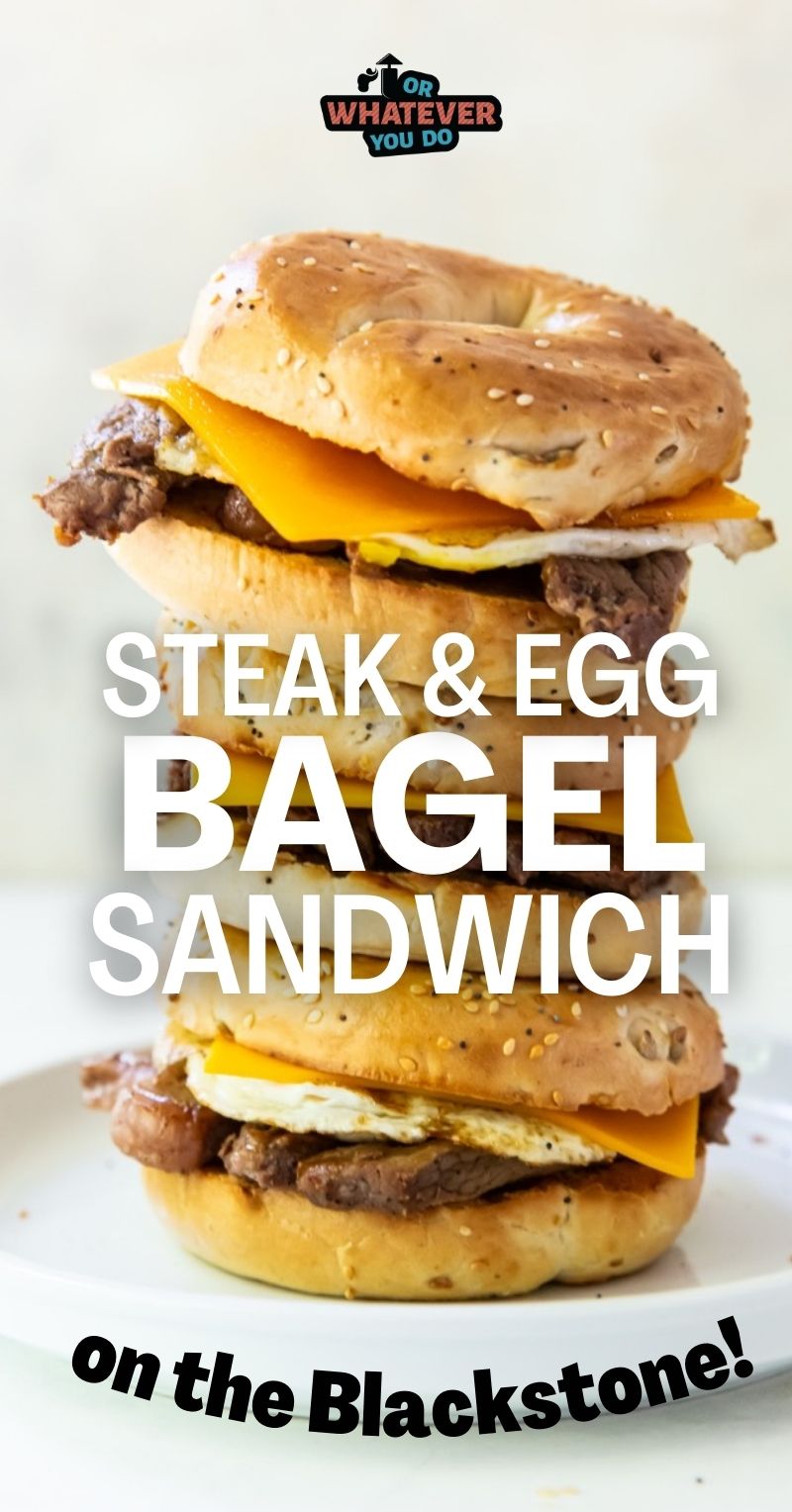 Blackstone Steak and Egg Bagel Sandwich
I love good steak, and when you can't sit down for a full steak, eggs, and hashbrowns breakfast a bagel sandwich is definitely the next best thing. You can use any kind of steak you have around, but we prefer to use New York, Flat Irons, and good old Ribeyes for this recipe. You can also use leftover steak if you made a bit too much last night for dinner, which makes for one of the quickest breakfasts EVER, even for a crowd, when you use the griddle!
The eggs pictured here are a little past the runny yolk stage, which is what I prefer when I'm at home, but if you're taking these to go I'd recommend going more towards the jammy yolk stage so you don't make a huge mess while you eat. You do you, though! The foil can catch a lot of the mess on the road.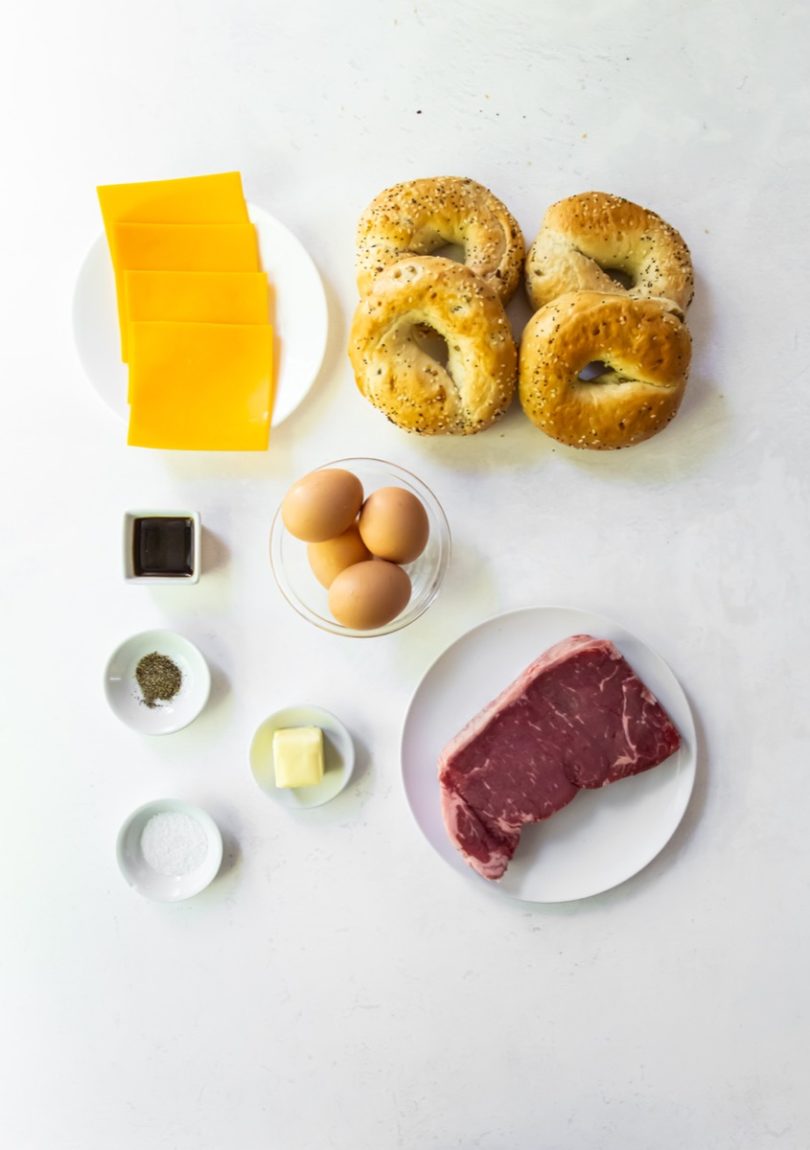 Blackstone Steak and Egg Bagel Sandwich shopping list
Wondering if you have to hit the store? Here's the list of items you'll need to make this recipe. For specific amounts, please refer to the printable recipe card at the bottom of the post.
steak (sirloin, New York, Flat Iron and Ribeye work well!)
salt & black pepper
Worcestershire sauce
butter
eggs
cheddar cheese
bagels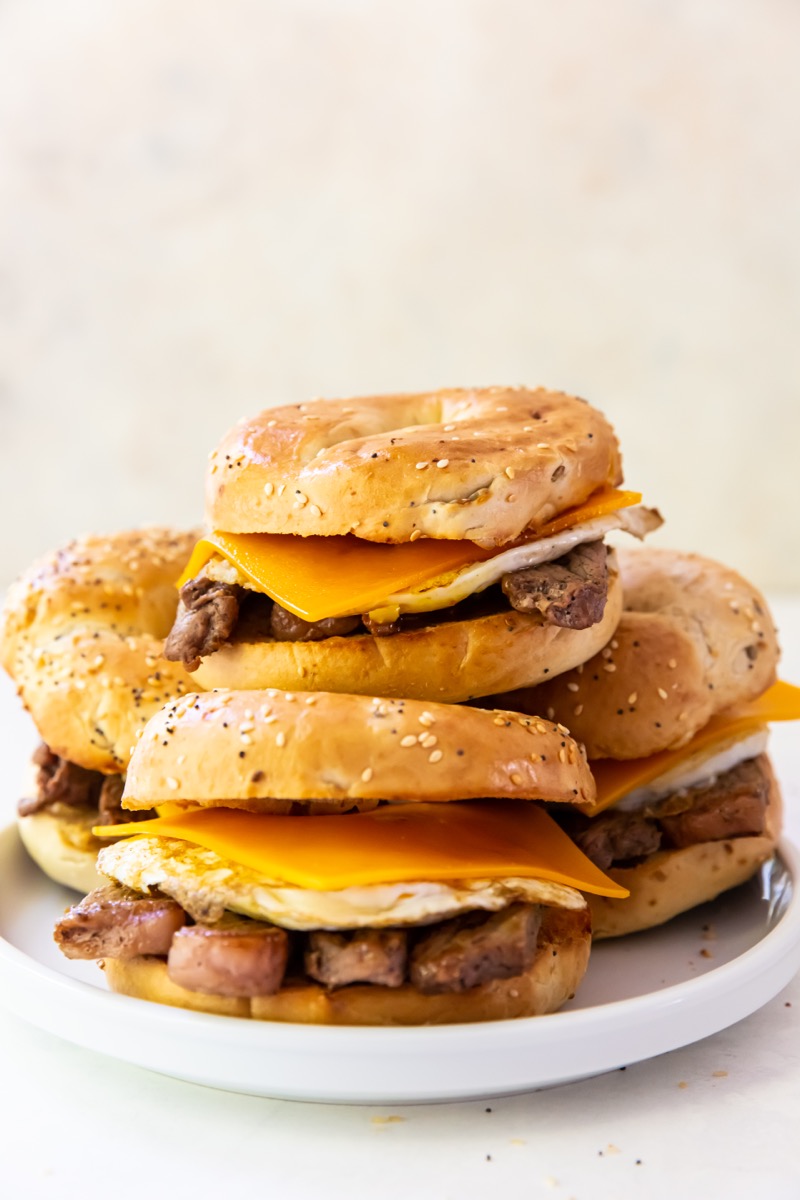 How to make a Steak & Egg Bagel Sandwich on the griddle
This is just the overview so you can see what you're actually getting into here. When you are cooking, you'll want to use the full recipe at the bottom of the page.
Preheat
Preheat your griddle to medium-high for 10-15 minutes.
Prep
Slice your steak, against the grain, into strips. Season with salt and pepper.
Cook the steak
Don't go too far! Medium-rare is still good enough for a breakfast sandwich, if you ask me.
Cook the eggs & bagels
Reduce the griddle heat to low to medium-low. Melt more butter on the grill and cook the eggs. Runny yolk for at home, a little more solid for on-the-go. Toast the cut side of the bagels on the griddle surface.
Assemble
Put the cheese, steak, and egg between two slices of toasted bagel and enjoy!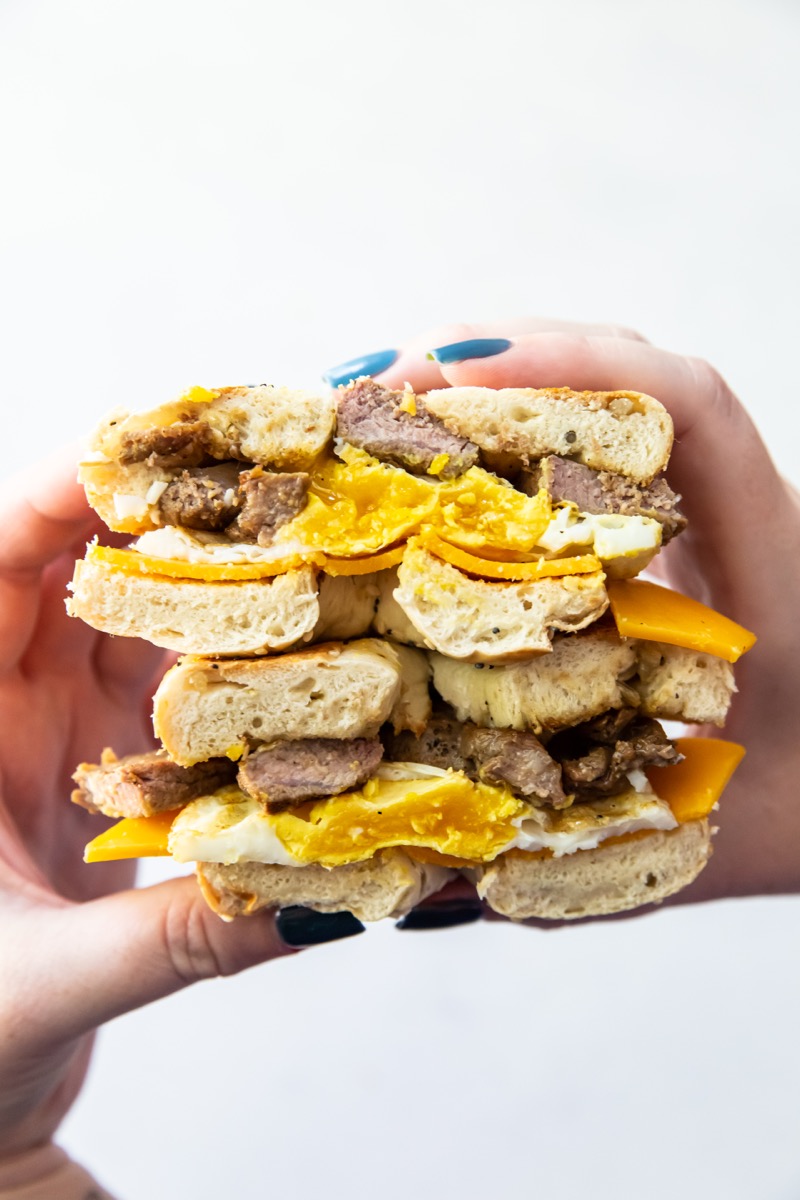 Steak and Egg Breakfast Sandwich FAQ
How do you store leftovers?
Store these in the fridge, wrapped, for 2-3 days, or in the freezer for up to a month.
What's the best way to reheat leftovers?
Leftovers can be reheated in the toaster oven, air fryer (wrapped in foil), or in the microwave.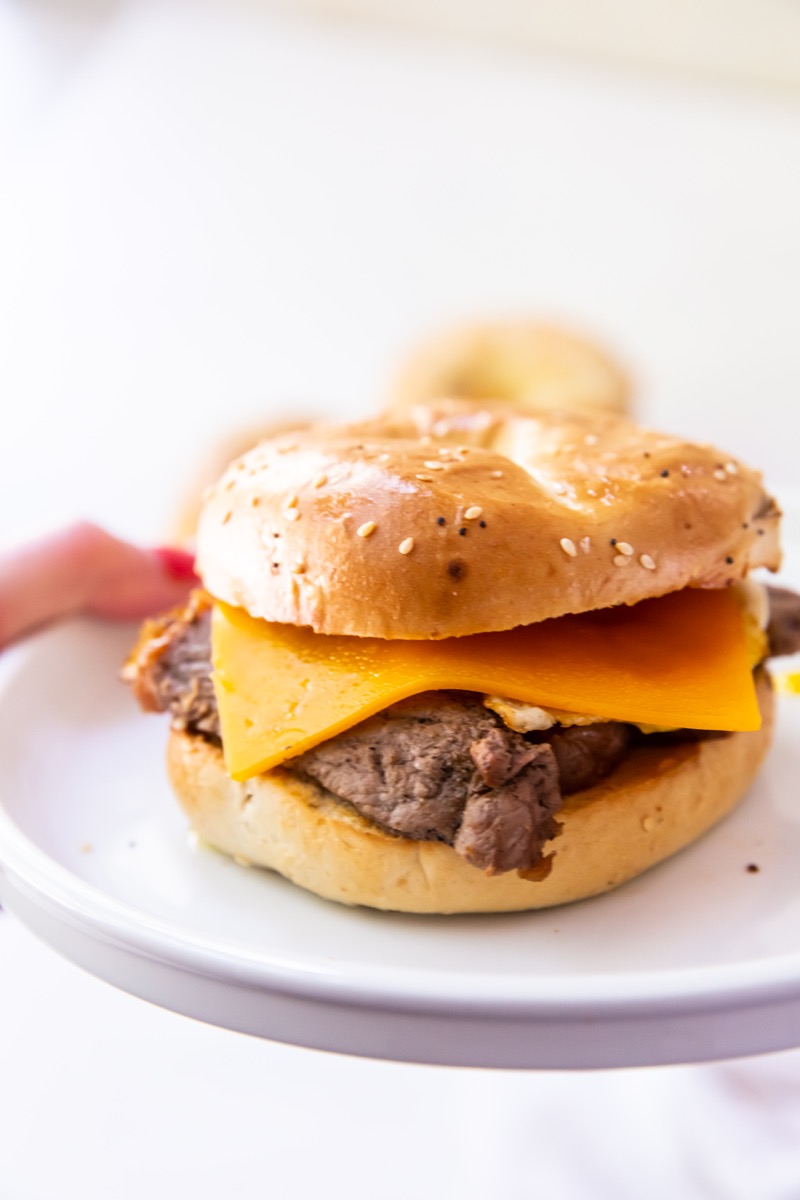 Try some more epic breakfasts!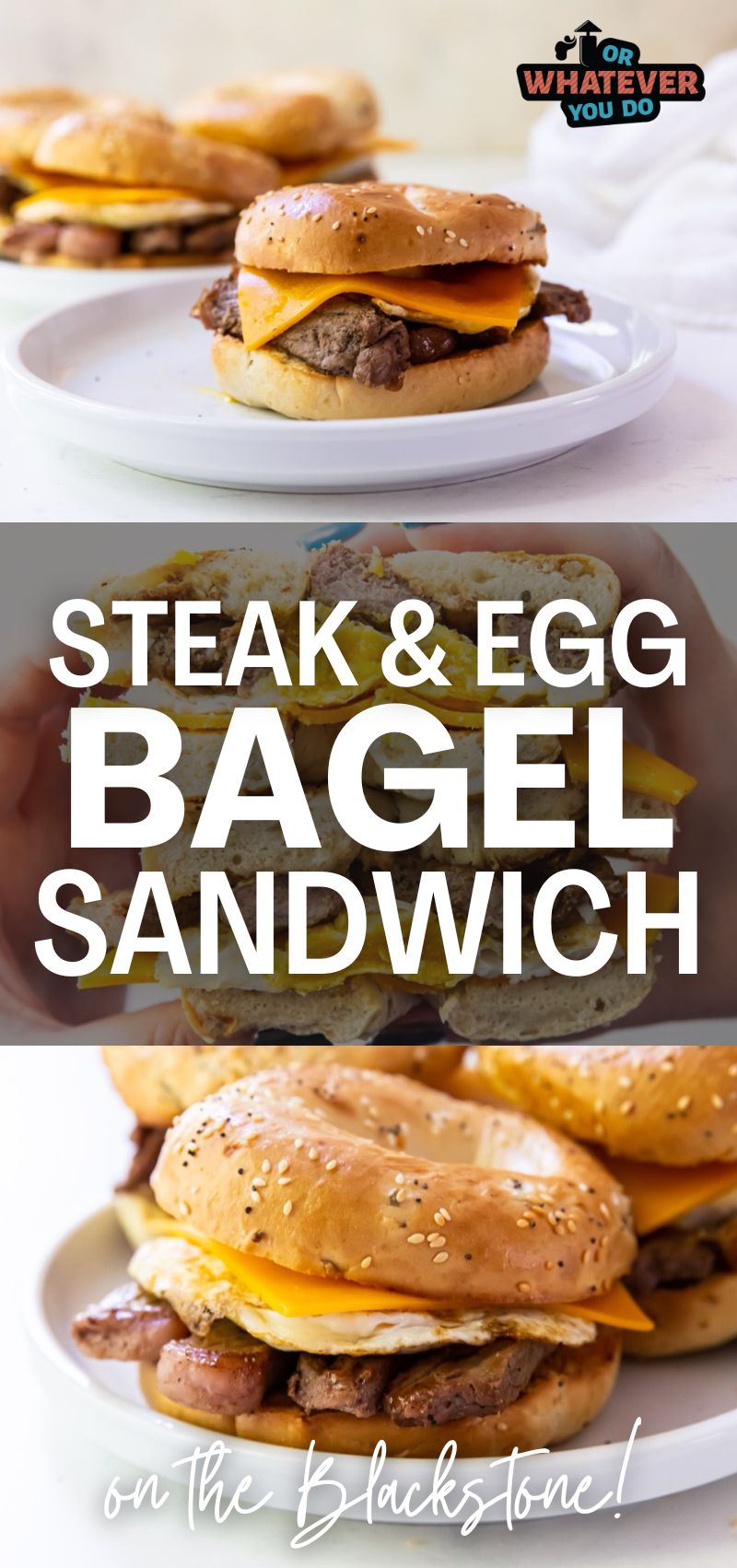 Prep Time
5 minutes
Cook Time
10 minutes
Total Time
15 minutes
Ingredients
1 pound steak (sirloin, New York, and Ribeye work well!)
1 teaspoon salt
1⁄2 teaspoon black pepper
1 tablespoon Worcestershire sauce
2 tablespoon butter, divided
4 eggs
4 slices of cheddar cheese
4 everything bagels
Instructions
Preheat your Blackstone to medium-high for 10-15 minutes before starting.
Cut the steak into 1⁄2 inch strips. Add
Season the steak with salt and pepper.
Put 1 tablespoon of butter on your Blackstone. Let it melt, and add the steak in a single layer on top. Cook for 1 minute, flip, and cook an additional 1 minute. (A little more if you like your steak medium-well to well instead of medium-rare to medium.)
Remove the steak and set aside, covered.
Next, add the remaining tablespoon of butter to the griddle. Crack your eggs over the butter. Flip once after the white is mostly set, or dome immediately if you want to skip the flip. Cook until the white is set, and the yolk is your desired texture. (I like runny yolk, but we made these a little more solid.)
Toast the cut side of the bagels on the griddle surface.
Place the steak on the bottom of the bagels, then add the egg and place the cheese on top.
Eat immediately or wrap in foil and then place in a ziplock bag for meal prep.
Recommended Products
As an Amazon Associate and member of other affiliate programs, I earn from qualifying purchases.
Nutrition Information:
Yield:
4
Serving Size:
1
Amount Per Serving:
Calories: 832Total Fat: 42gSaturated Fat: 19gTrans Fat: 1gUnsaturated Fat: 18gCholesterol: 339mgSodium: 1372mgCarbohydrates: 57gFiber: 2gSugar: 10gProtein: 54g
Nutrition data provided here is only an estimate.