It used to be the only favors I asked of Helena Bedwell were for phone numbers of particular officials I could not otherwise get from my usual sources. Helena, a journalist for 25 years, knows everyone in Tbilisi. Then last week, I called her for some help of a more domestic kind: I wanted to learn how to cook a Georgian holiday dish. She offered to show me pelamushi, a voluptuous tooth-smacking porridge.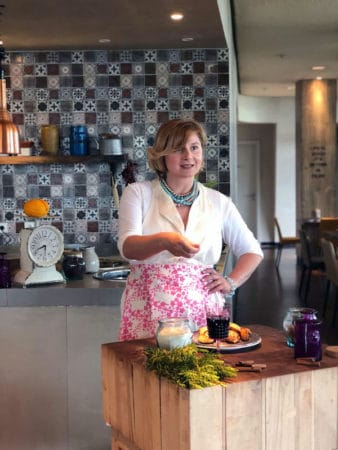 A couple of years ago, the Georgian journalist published her first cookbook, Georgian Flavours from Helena, a homey, straightforward collection of her take on classic Georgian recipes designed for "busy and on-the-go" people like her who may be abroad and want to recreate Georgian dishes with a limited supply of time and ingredients.
"My [British] husband and I travel a lot, and we've lived in lots of different places," the mother of two explains. "You can substitute ingredients without insulting the Georgian kitchen."
Pelamushi is traditionally made of badagi, thick unfiltered grape juice and the base for churchkhela, the nutty candle-shaped candy some consider the world's first energy bar. It is prepared during harvest time in a caldron over an open fire; the badagi is reduced and flour is mixed in to create a thick, sticky consistency.
We have been to churchkhela "parties" in villages and witnessed how backbreaking the labor is – for the women. Men stand around with cigarettes stuck to their lips and occasionally squat down to add a log to the fire while the matriarchs are bent over the big pot, smoke stinging their eyes, pulling an oar-like wooden spoon through the thick roux. After the stringed nuts have been exhausted and are hanging on the porch to dry, the leftover pulp – pelamushi – is spooned onto plates or bowls. The warm, tangy, viscous dessert sticks to the roof of your mouth and melts over your tongue, leaving a sweet fruity finish you quickly overpower with another spoonful.
It is not easy to get real badagi in the city, although you can find bottled grape juice in some supermarkets. Helena suggested we make blackberry pelamushi, which would no doubt provoke contentious eye rolls from orthodox food warriors, but we weren't cooking for them. In fact, any unsweetened juice will work, Helena says, except freshly squeezed, which for some reason makes for funky results. "You want color," Helena insists. "I've used sweet red Italian wine, which was great. Apple juice is good, but not clear."
In east Georgia, white flour is used for thickening while in the west a mix of corn and wheat flour is the norm. For our first attempt, we went eastern style. Proportions are approximate and depend on the thickness you prefer. For one liter of juice, we used about two and half cups of flour.
First, we whisked in about a half-cup of flour into a pot of fruit juice. Then we put it on medium high heat and slowly added flour as it warmed, whisking continuously to prevent it from burning. Everyone has their favorite consistency. We stopped adding flour when the pelamushi was like a thick, sticky pancake batter and continued to stir for about five minutes until the flour flavor was cooked out. Helena likes to garnish with almonds, but we used halved walnuts, although next time we'll try crushed. Pistachios would be good, too.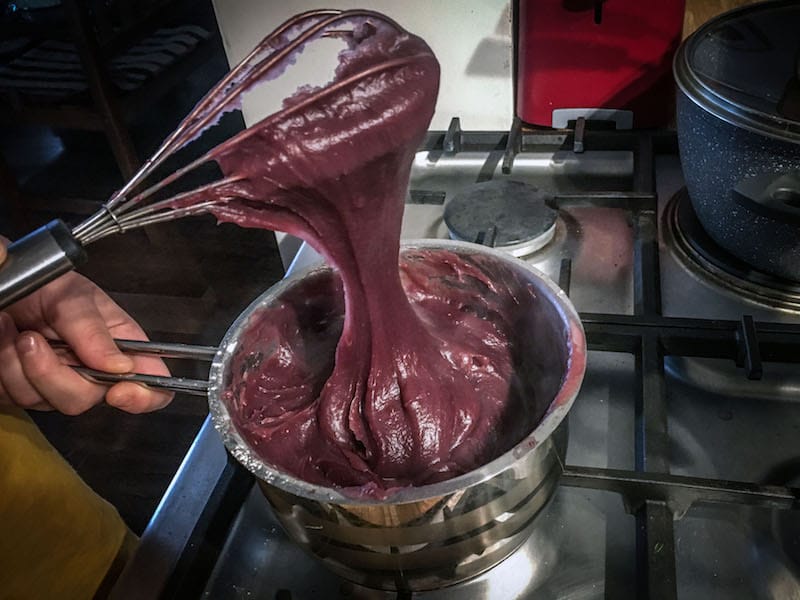 Pelamushi is divine but it is also heavy, making it a difficult dessert to appreciate after a typical Georgian meal. Helena, who is vegetarian and quite health conscious, typically uses gluten-free flour, which lightens up the viscosity. Her love of wholesome eating led to a second book, Eat Georgian Feel Good: Vegan and Vegetarian Recipes from Helena. Here, she tapped into her Imeretian roots and explored the rich array of authentic vegetarian starters that can be found in the area and interviewed nuns to learn of their "amazing fasting recipes." Like a gourmet evangelist, Helena is showing the world how wonderfully diverse and uncomplicated Georgian food is.
While living in England, she took part in a weekend organic food fair and her mchadi, Georgian cornbread, stuffed with local ingredients wowed the natives. At the next fair a man approached her and asked, "Where's the mchadi?"
"I thought, 'I've done it. I am a messenger of Georgian cuisine,'" Helena laughs. "I want the whole world to know Georgian food is unforgettable."
Helena's Pelamushi
For 4-6
Time: approx. 15 minutes.
1 liter fruit juice
2-3 cups flour
Almonds (or walnuts, crushed or not) for garnish
Pour juice into large pot and mix in 1/2 cup of flour. Heat over medium flame. As the juice begins to boil, slowly mix in more flour and cook until you can no longer smell and/or taste flour (about 5-7 minutes). Serve in small bowls or plates.
Follow Helena on Facebook and watch her on YouTube.
November 11, 2020 Recipe
When rice first arrived in Greece in the 4th century B.C., a result of Alexander the […] Posted in Athens
November 25, 2020 Recipe
Pastitsio (παστίτσιο) is rightfully among the most beloved and classic dishes of the […] Posted in Athens
December 2, 2020 Recipe
Unlike many other pulses, most bean varieties were not native to the eastern […] Posted in Athens