Soil tests show "the integrity of the agricultural food supply production for (Sumas Prairie) remains strong."
Article content
Renee Prasad spends hours on her hands and knees in the dirt, looking at bugs.
Article content
As floodwater saturated the Sumas Prairie in November, the agrologist worried about the ladybugs, bees and spiders in the fields she studies, season after season. The insects, which help crops flourish by providing pollination and pest control, are integral and indicative of the health of some of Canada's best farmland.
"I've been in these fields for a long time," said Prasad, an associate professor in the agriculture technology department at the University of the Fraser Valley. "I'd notice if there was something amiss."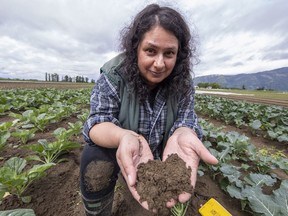 As spring returned, so did the bugs. And while the scientist hasn't done an official count, the usual "community" of insects appears to be accounted for, she said.
Soil contamination was a big concern in the days after the November floods. Water polluted by manure, fertilizer, and fuel and oil tanks spread across the Sumas flats. Police warned kayakers to stay out of the floodwater, while rescue teams went through a decontamination process at the end of every shift.
Article content
After the water drained away, scientists from B.C.'s agriculture ministry took 24 soil samples from 21 different fields, and analyzed them for contaminants, including petroleum products, metals, pesticides, herbicides and asbestos.
The results were a relief for many.
"After reviewing the soil quality results, it was determined the sampled agriculture lands were not compromised during the flooding, and the integrity of the agricultural food supply production for this area remains strong," said a statement provided to Postmedia last week.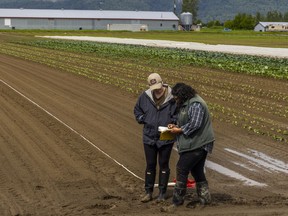 Farmers continue to test their land, providing results to packers, distributors and retailers as required, said Tom Baumann, an agriculture consultant specializing in blueberries. "They're all asking for third-party evaluations."
Article content
But so far, no soil contamination has been found, including hydrocarbons from fuel or bacteria from manure.
Baumann, the president of consulting company Expert Agriculture Team, said it is believed leaked fuel remained on top of the floodwater and either evaporated or washed away, while the cold snap that followed the flood killed bacteria.
"The frost went deep into the soil," he said. "Nothing would survive that."
Prasad said farmers with crops that hadn't been harvested before the flooding were forced to plough them under, including fields of cabbage, Brussels sprouts, and leeks. Annual crops are always replanted in the spring from new seeds. Perennial crops, such as blueberries and raspberries, suffered damage to their roots, but the plants are now beginning to bloom, although fruit is still months away.
Advertisement 5
< div aria-hidden="true" class="ad__placeholder">
This advertisement has not loaded yet, but your article continues below.
Article content
Both agrologists said they wouldn't hesitate to eat food grown in the flood zone.
"Bottom line is I'm really looking forward to eating the food grown in the Sumas Prairie," said Prasad.
But while contamination doesn't seem to be an issue, many farmers continue to deal with flood-related damage. Some fields near dike breaches were scoured by river water, which left silt and rock behind. Ahead of planting season, farmers and volunteers banded together for a massive field cleanup day to remove tons of debris and garbage.
Abbotsford blueberry farmer Jason Smith said surface water stripped the sawdust from beneath his blueberry plants, which were under a metre of water for five days in Matsqui Prairie, Abbotsford's other main agricultural area, which saw flooding from heavy rain. His plants may have some root issues as well.
Article content
Smith, who is chair of the B.C. Blueberry Council, said each farmer impacted by flooding is making his or her own decision about how to recover. Some have decided to rip out struggling plants, while others have "stumped" them, removing branches so damaged roots can support the remaining foliage.
For those that replant, it will take about 10 years to return to full production. For those that stump, it will be three or four years.
Baumann said the cool spring weather has in some ways been a blessing to plants damaged by water. Extreme weather, such as a heat wave, would put added stress on the plants.
He praised the provincial ministry of agriculture for being responsive and quick to help farmers, but added the effects of 2021 will be felt for years to come.
Article content
"It's a lingering disaster," he said.
Fire & Flood, Facing Two Extremes: Why B.C. can't always build its way out of risks

B.C. flood: 'Back to zero,' but unbroken, B.C. berry and vegetable farmers will need public's support

'It's another battle': Flood-weary farmers hit hard by B.C. cold snap
gluym
[email protected]
---
More news, fewer ads: Our in-depth journalism is possible thanks to the support of our subscribers. For just $3.50 per week, you can get unlimited, ad-lite access to The Vancouver Sun, The Province, National Post and 13 other Canadian news sites. Support us by subscribing today: The Vancouver Sun | The Province.