Spinach salad drizzled with a hot bacon dressing- A simple, healthy, and low carb salad that features boiled eggs, crispy bacon, and a dressing that is so delicious, you'd be tempted to drink it!
No matter what main course you serve it with, whether it be crack chicken, some seared Chilean sea bass, or a simple baked salmon, this keto spinach salad pairs wonderfully and completes the meal!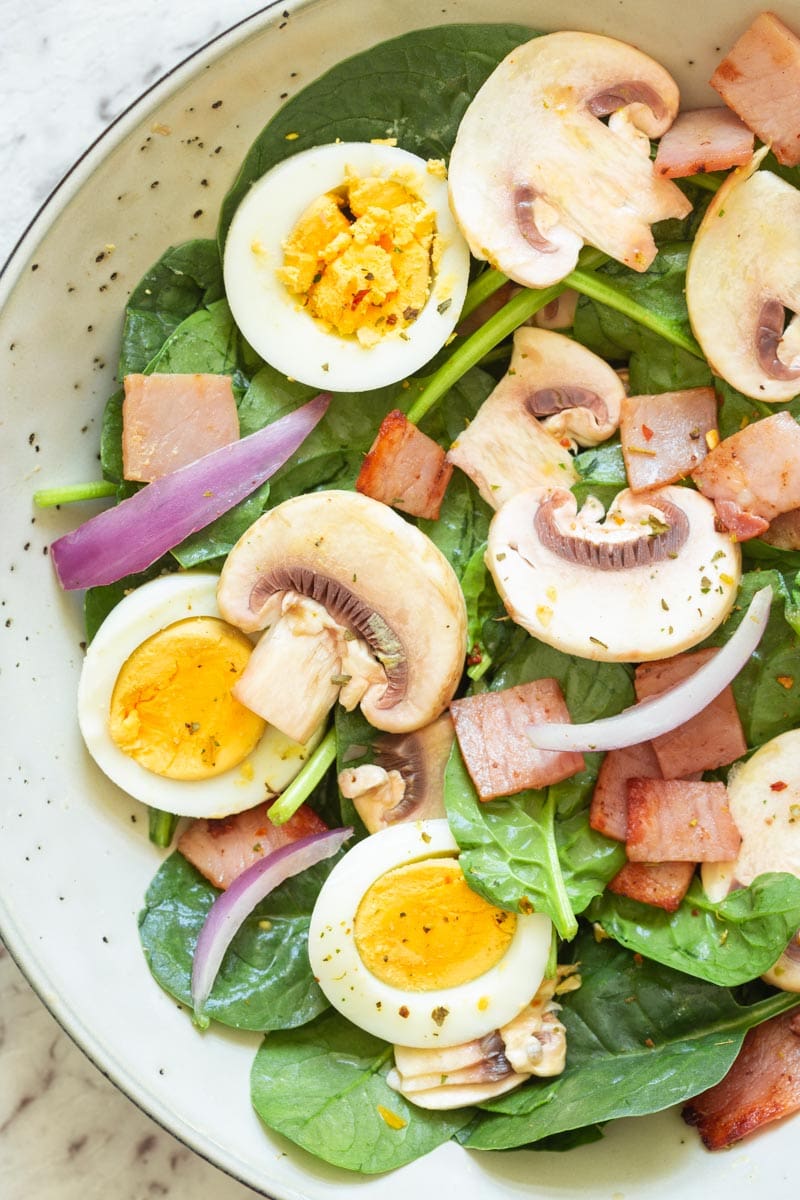 Salads get a bad rap for being boring or bland and are often considered a garnish or boring side dish. This does not have to be the case, and with a handful of ingredients, you can create a salad that is elegant and delicious. Crispy bacon is added to a simple spinach salad, then the hot bacon rendering is mixed with balsamic and mustard and tossed through the salad to take it to another level. 
Why you'll love this keto spinach salad
Ready in 5 minutes. From prep to plate (or mixing bowl), this entire dish takes just 5 minutes to make. 
Almost zero carbs. Besides some trace net carbs from the vegetables, this dish is virtually carb free. 
Versatile. This salad is the perfect side dish for any main course possible, especially one that is protein heavy. 
Ingredients to make this salad
For the salad.
Baby spinach– washed and dried. 
Mushrooms– Thinly sliced button mushrooms. 
Boiled eggs– cooled or chilled. 
Red onion– thinly sliced.
Bacon– Thick cut bacon. 
For the hot bacon dressing. 
Bacon grease (rendering)– Adds a lovely oil base for the dressing and enhances the bacon flavor. 
Red wine vinegar– flavorful and with a robust punch. 
Dijon mustard– Yellow or American mustard works. 
How to make a keto spinach salad with hot bacon dressing
Start by adding the diced bacon to a non-stick pan and let it cook for 2-3 minutes, or until crispy. While the bacon is cooking, mix the spinach, mushrooms, boiled eggs, and red onion until combined.
Next, add the crispy bacon, then transfer the bacon rendering to a small bowl. Quickly whisk through the red wine vinegar and Dijon mustard and drizzle over the salad.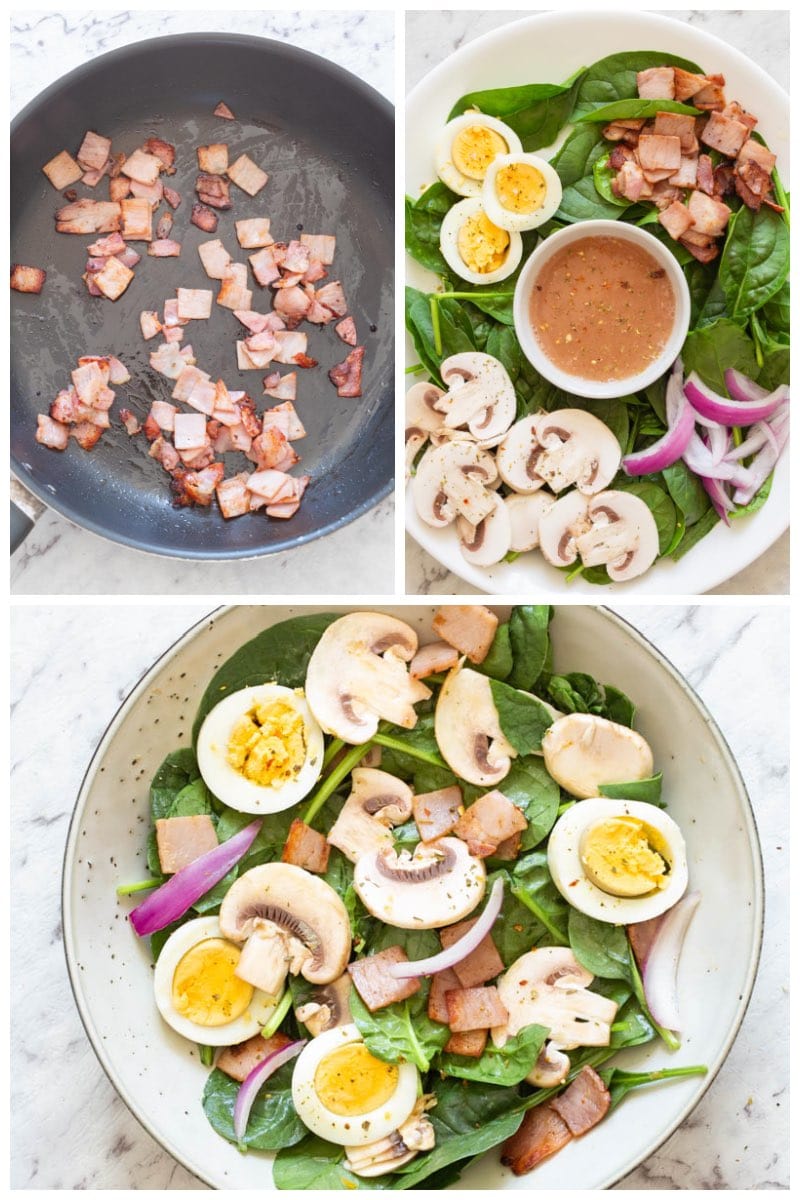 What to serve with a low carb spinach salad
While anything goes with this salad, a protein heavy dish works best. Our favorite keto dishes to serve with this include-
Storing and make-ahead tips
To store: Leftover spinach salad should be stored in the refrigerator, covered, for up to three days. 
To make ahead: Prepare the vegetables and keep them covered. Pre-chop the bacon and have it ready to pan fry. When ready to serve, crisp the bacon, toss it through the prepared vegetables, then make the dressing. This can all be done up to three days in advance. 
Can I freeze a spinach salad? 
Do not freeze spinach salad, as the vegetables become soggy.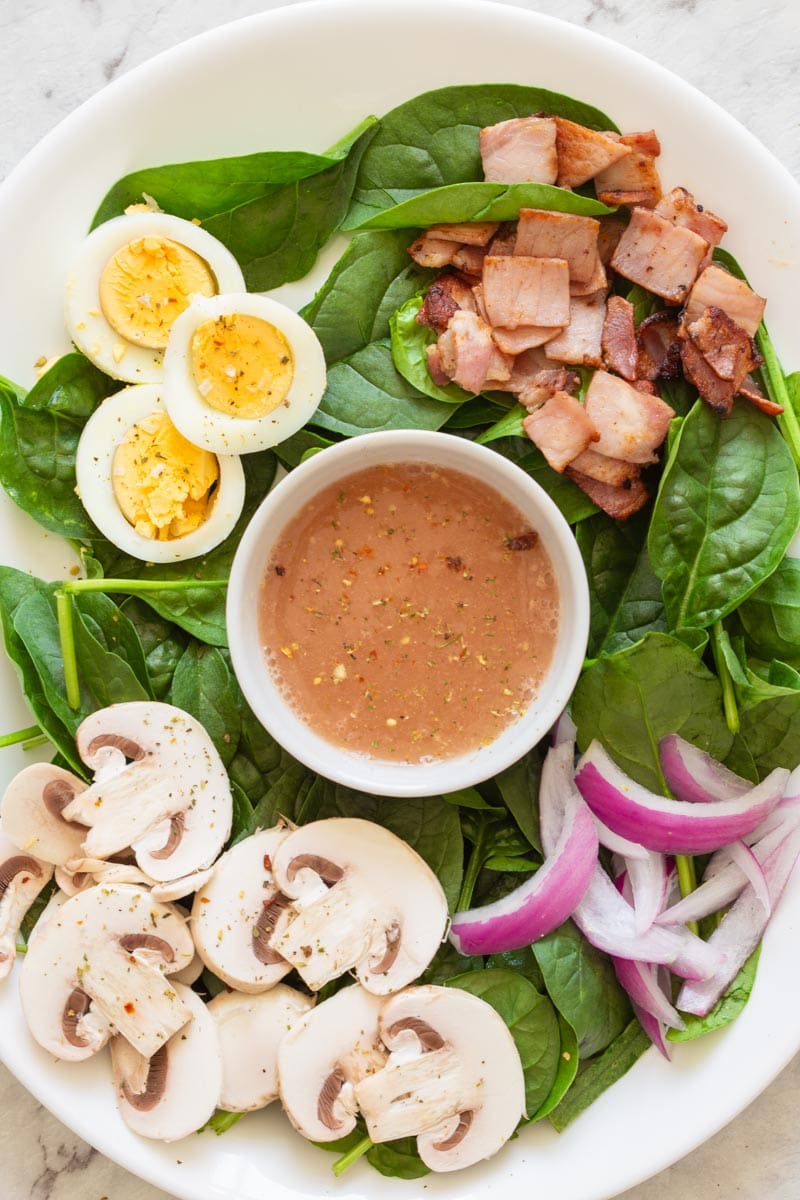 More keto salad recipes to try
Frequently Asked Questions
How many carbs are in hot bacon dressing?
There are zero carbs in hot bacon dressing, as the vinegar and bacon grease are carb free.
How many carbs are in a spinach salad?
There are less than 2 grams net carbs in a serving of spinach salad. This includes the warm bacon dressing.
Can I use English spinach or another kind of spinach?
Unless you want a wilted spinach salad, baby spinach is the best kind to use for salads.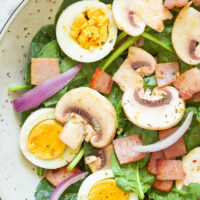 For the spinach salad
6

cups

baby spinach

1/4

large

red onion

thinly sliced

4

large

mushrooms

thinly sliced

2

boiled

eggs

sliced

4

slices

thick cut bacon

chopped
For the hot bacon dressing
2

tablespoons

bacon rendering

bacon grease

2

tablespoons

red wine vinegar

1/2

teaspoon

Dijon mustard
In a mixing bowl, toss together the spinach, sliced onions, mushrooms, and egg.

Add the chopped bacon to a non-stick pan and place it over medium heat. Fry the bacon for 2-3 minutes, until crispy. Remove the bacon and add it to the salad.

Pour the bacon grease (rendering) into a small bowl, then whisk in the red wine vinegar and Dijon mustard. Toss it through the salad and serve immediately.
Serving: 1serving | Calories: 171kcal | Carbohydrates: 2g | Protein: 7g | Fat: 15g | Sodium: 283mg | Potassium: 410mg | Fiber: 1g | Vitamin A: 4236IU | Vitamin C: 14mg | Calcium: 50mg | Iron: 2mg | NET CARBS: 1g