Mac and Cheese Casserole is a quintessential Thanksgiving side dish that's always one of the best parts of the plate! Creamy Mac and Cheese is baked to perfection under a layer of crunchy, buttery Panko topping and is made rich with three different cheeses.
Baked Mac and Cheese
Everyone has their family favorite Mac and Cheese recipe, but this one might be even better than your grandma's! Sharp cheddar, gruyere, and parmesan make this Mac and Cheese casserole supremely cheesy. What's even better is the whole milk and heavy cream that work in tandem to make it decadently rich and creamy!
The crunchy Panko topping is the bow on top of this delicious present. You can skip adding it if you're not into that buttery, crunchy layer of goodness…but I highly recommend trying it out! The way that the crunch pairs perfectly with the creamy, cheesy consistency of the tender noodles is pretty perfect.
Why you'll love this Thanksgiving Mac and Cheese Recipe:
THANKSGIVING STAPLE: In my home, Thanksgiving wouldn't be complete without some macaroni and cheese! This cheesy side dish is perfect for plating right next to the turkey.
SO CHEESY: Sharp cheddar, gruyere, and parmesan meld together to create the best level of rich cheesiness that makes every bite better than the last.
EASY TO MAKE: This Mac and Cheese Casserole is super easy to make and even easier to eat.
Creamy, rich, cheesy, and delightfully decadent, this casserole is served under a layer of crunchy seasoned Panko breadcrumbs. Are you drooling yet?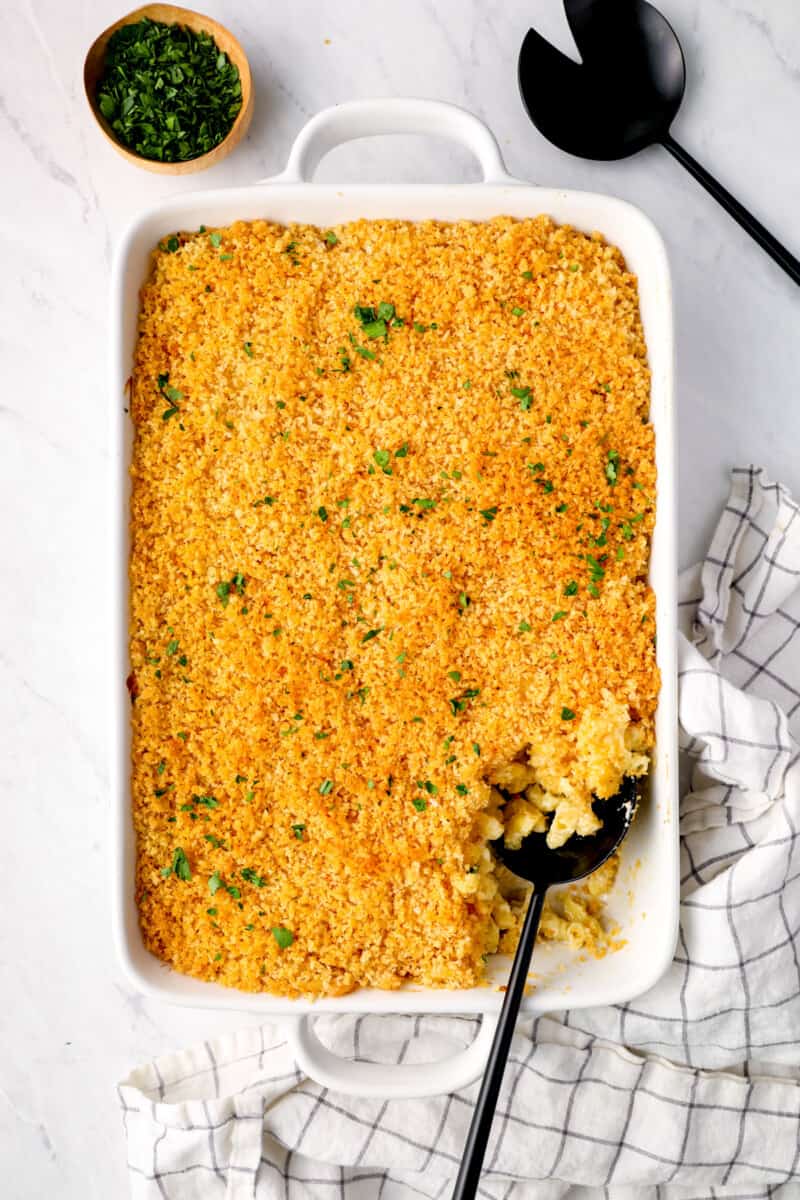 How to Make Mac and Cheese Casserole
Be sure to see the recipe card below for full ingredients & instructions!
Cook, drain, and rinse the pasta.
Melt butter in a pot then add garlic.
Whisk in the flour.
Whisk in the milk, cream, and mustard powder, and bring to a simmer.
Turn off the heat and stir in the cheeses.
Toss in the pasta.
Spread the Mac and Cheese in a baking dish.
Combine the breadcrumbs, butter, and paprika, then sprinkle over Mac and Cheese.
Bake for 20-30 minutes.
Recipe Notes
Pasta: Elbow macaroni is classic, but you can use any tube-shaped pasta, like penne, ziti, etc. Shells would work too!
Butter: Mixes with the flour to create a roux, thickening the sauce. Melted butter helps form the breadcrumb topping.
Garlic: Pairs well with the cheeses.
Flour: Mixes with the butter to create a roux, thickening the sauce.
Milk: Forms the base of the cheese sauce.
Cream: Adds creaminess to the cheese sauce.
Spices: Mustard powder, salt, pepper, and paprika are classic mac and cheese spices.
Cheese: A blend of sharp cheddar, Parmesan, and Gruyere makes for a more complex mac and cheese.
Breadcrumbs: Form the crunchy topping. I like Panko, but you can use any breadcrumbs you like.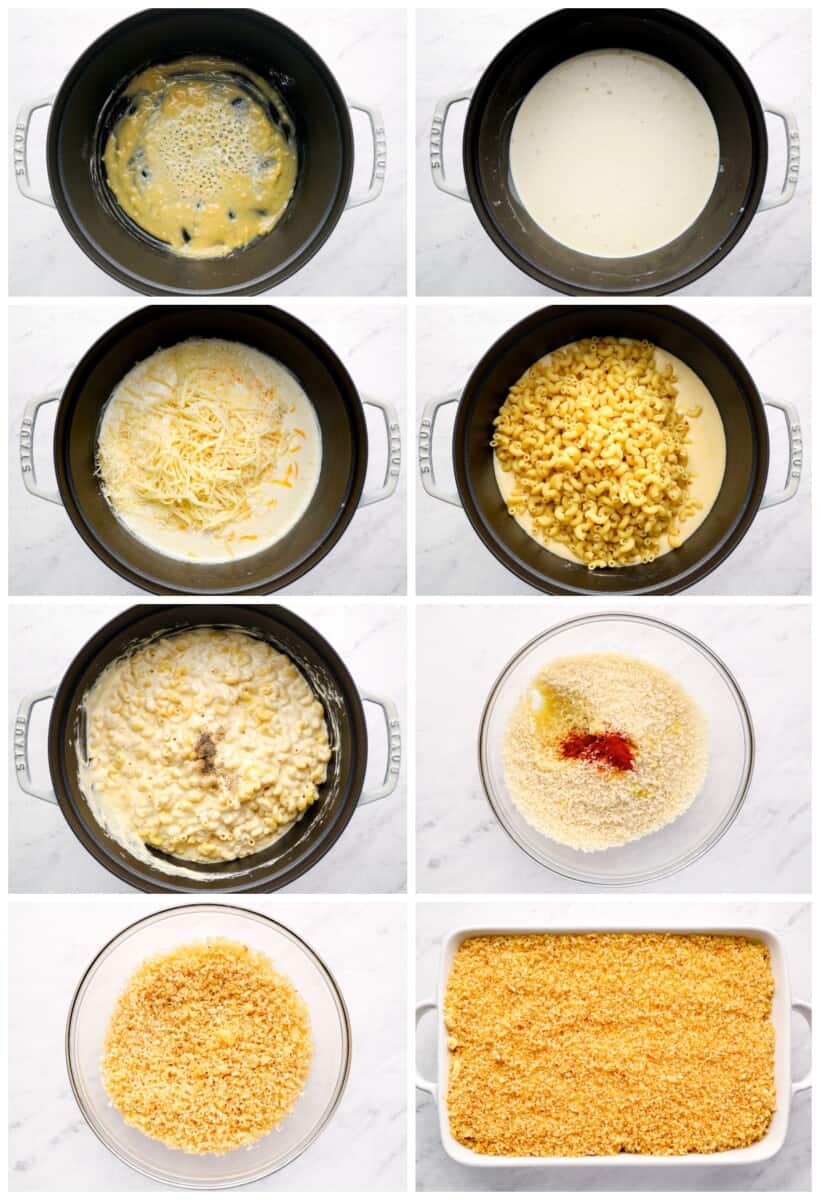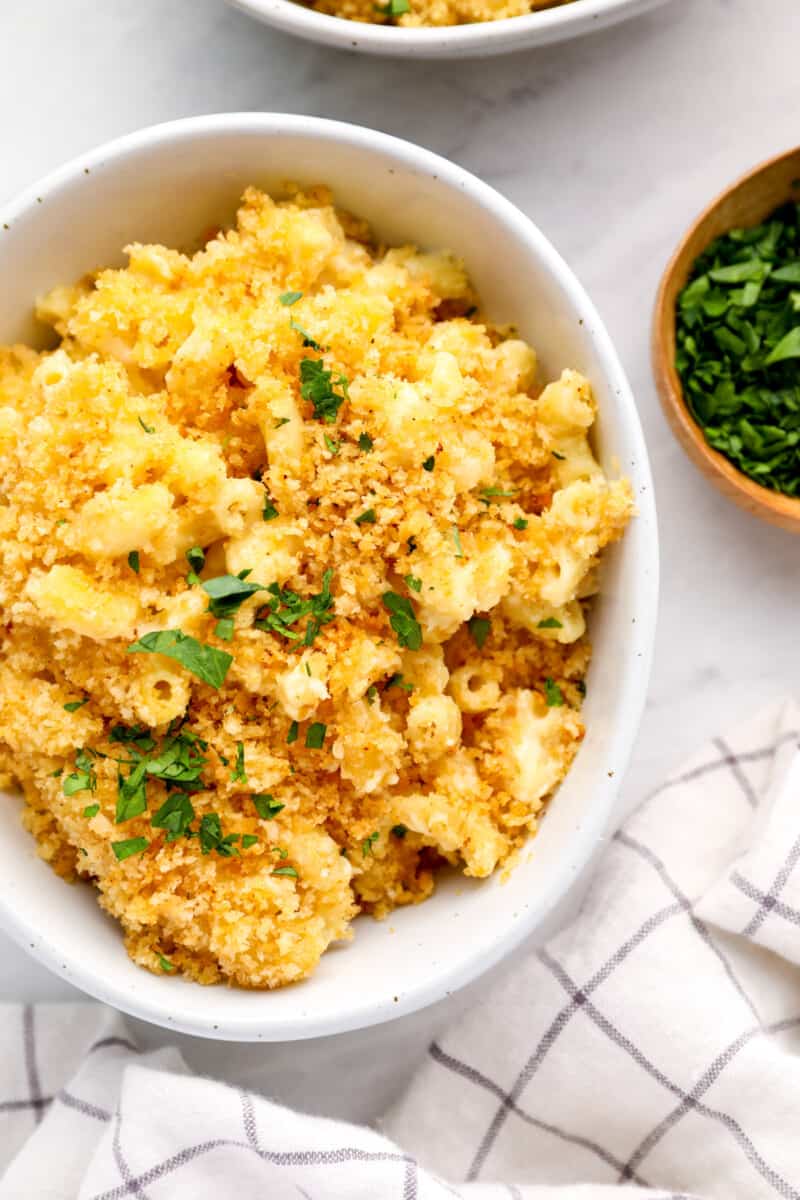 What is the best cheese for Mac and Cheese Casserole?
Cheddar is classic. I love the blend of sharp cheddar, Parmesan, and Gruyere. It's a great mix of classic mac and cheese flavor with extra saltiness, nuttiness, and just a bit of earthiness. You can switch it up by using a milder cheddar or white cheddar, gouda, fontina, and/or Monterey jack.
Can I make Mac and Cheese Casserole with a different kind of pasta?
Absolutely! You can use any short-shaped pasta, like penne, ziti, shells, or rotini!
Should I rinse the pasta before adding it to Mac and Cheese Casserole?
Yes! Rinsing the pasta will remove any excess starch, which could cause your sauce to be too thick! I like using a roux to control the thickness of my sauce, and extra pasta starch makes it harder to control the thickness. Rinsing in cold water also stops the pasta from overcooking!
Can I make Mac and Cheese Casserole with pre-shredded cheese?
While you certainly can use pre-shredded cheese, I don't recommend it. Pre-shredded cheeses are coated in starch to keep them from sticking, but that also makes them more difficult to melt, and the starch can affect the consistency of the sauce. Furthermore, fresh cheeses just taste better.
What can I add to Mac and Cheese Casserole to spice it up?
You can add onion powder, cayenne pepper, Italian seasoning, crushed red pepper flakes, or Buffalo sauce to spice up your Mac and Cheese Casserole.
This easy to make macaroni and cheese Casserole is sure to steal the show at your Thanksgiving dinner. Don't be afraid if it even gets more compliments than the Pumpkin Pie!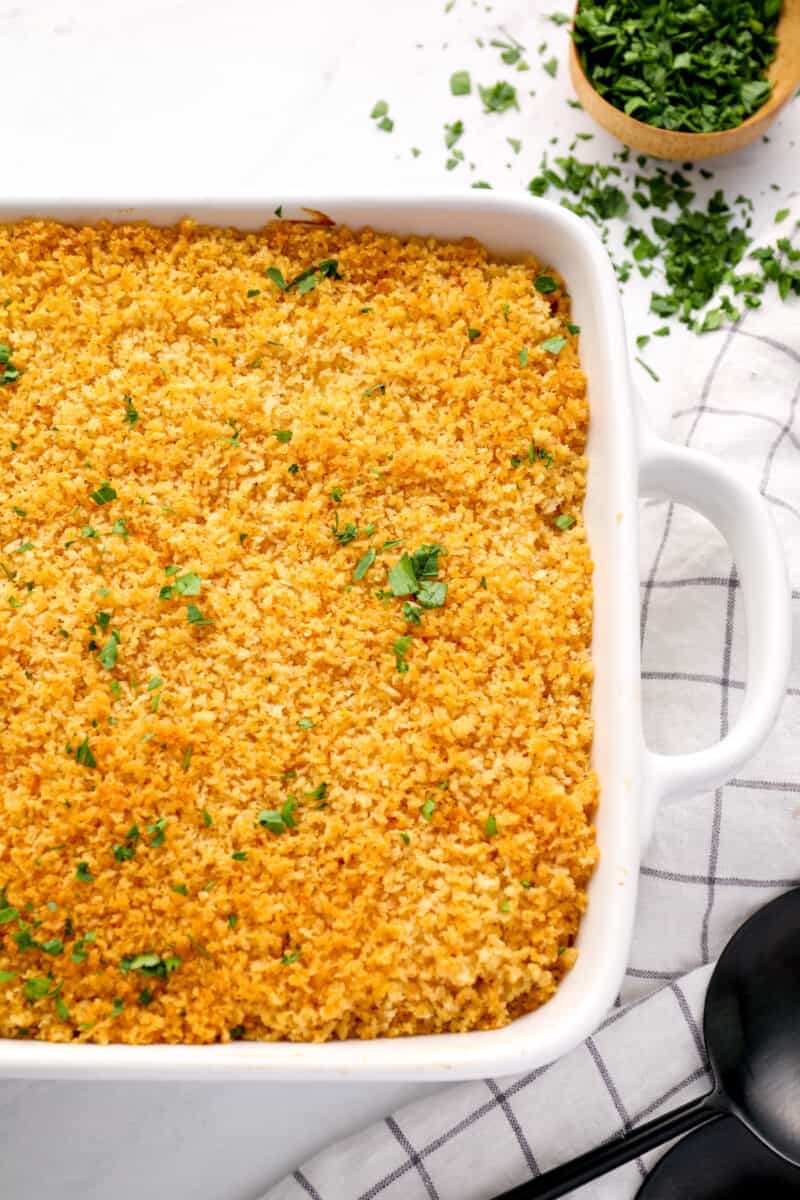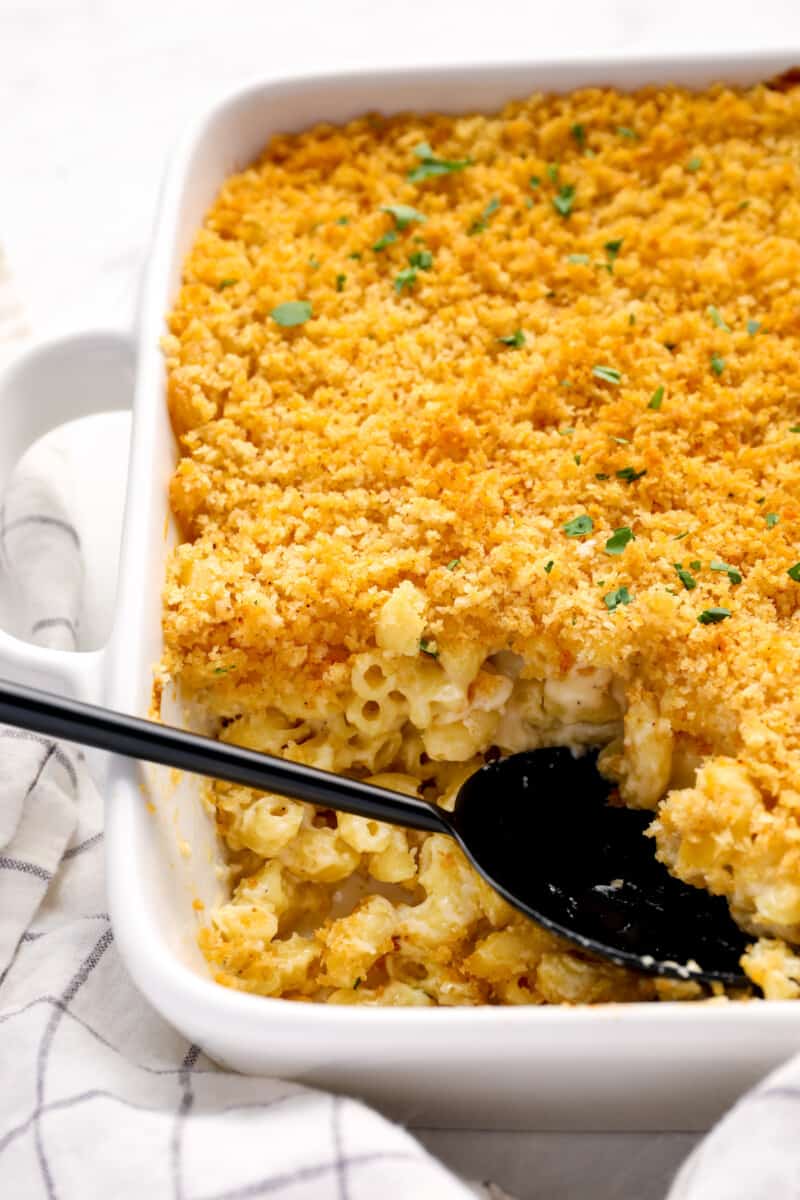 Make Ahead Instructions
This mac and cheese casserole can be prepared (but not baked) up to 2 days in advance of when you plan to serve it. Cover the unbaked casserole tightly with aluminum foil and store it in the refrigerator. When ready to bake, let the casserole sit out at room temperature for 30 minutes, then bake as directed.
Storage Instructions
Store leftover mac and cheese casserole in an airtight container in the refrigerator for up to 4 days. Reheat covered with aluminum foil in a 350°F oven for 20 minutes, then remove the foil and bake for another 10 minutes, until hot and bubbly.
Freezing Instructions
Freeze mac and cheese casserole whole or in individual portions in airtight containers for up to 3 months. Let thaw overnight in the refrigerator before reheating.
Variations
This mac and cheese casserole is great as is, but you can spice it up by adding:
Tips for the Best Mac and Cheese Casserole
Generously salt your pasta water; it adds a lot of flavor.
Cook the pasta al dente; the pasta will continue to cook in the casserole.
Rinse the pasta thoroughly to remove excess starch and prevent the pasta from overcooking.
Use room temperature milk and cream to prevent curdling.
Shred the cheese by hand if possible for the best flavor and texture.
Feel free to substitute crumbled Ritz crackers or Italian breadcrumbs in place of the Panko.
If you'd prefer, you can top this casserole with another cup of cheddar cheese instead of breadcrumbs before baking.
At the end of baking, broil the casserole for a few minutes for an extra crispy crust.
Let the casserole rest for 10 minutes before serving to give it time to set.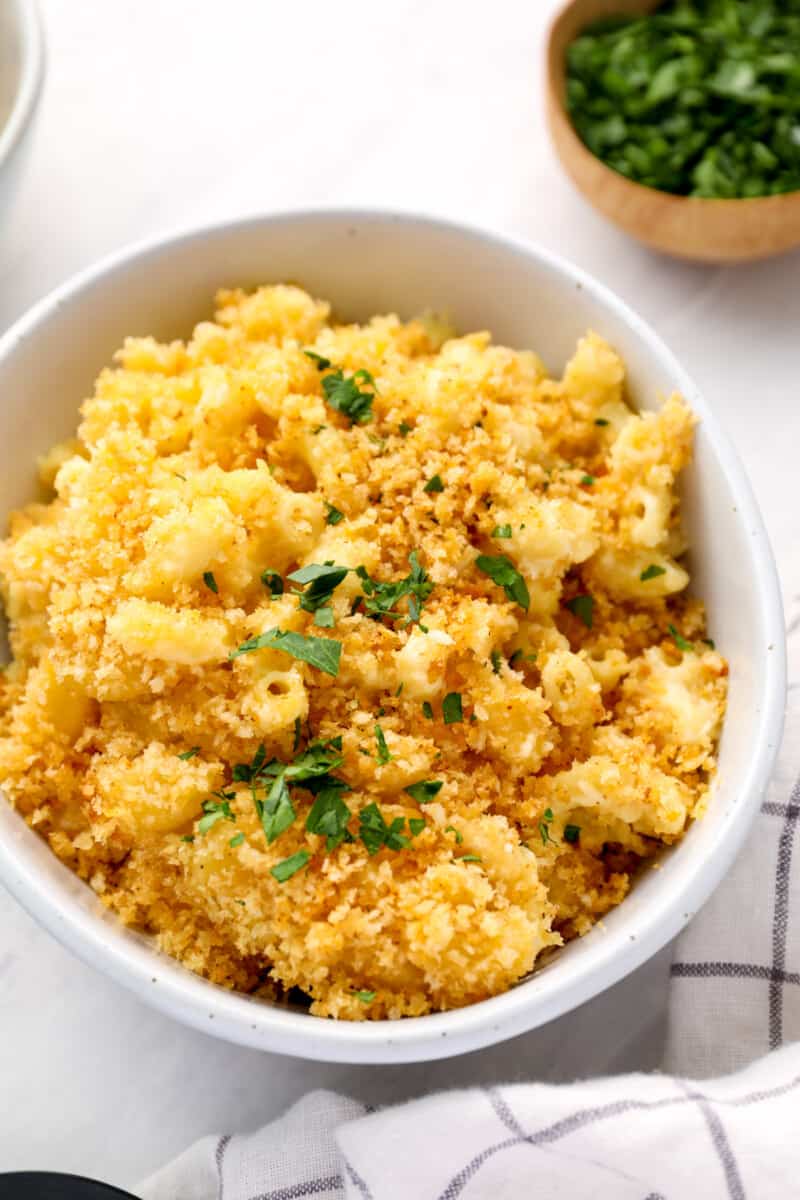 This Thanksgiving, treat your family and friends to the ultimate cheesy side dish with this Mac and Cheese Casserole. It's easy to make and always steals the show. Grab that cheese grater and get to shredding – you're going to love every decadent bite of this classic casserole!
If you make this recipe be sure to upload a photo in the comment section below or leave a rating. Enjoy!