Joseph Burkett knew nothing about maple syrup when he and his wife-to-be, Alethea, decided to try making it on his father's gravel driveway 20 years ago.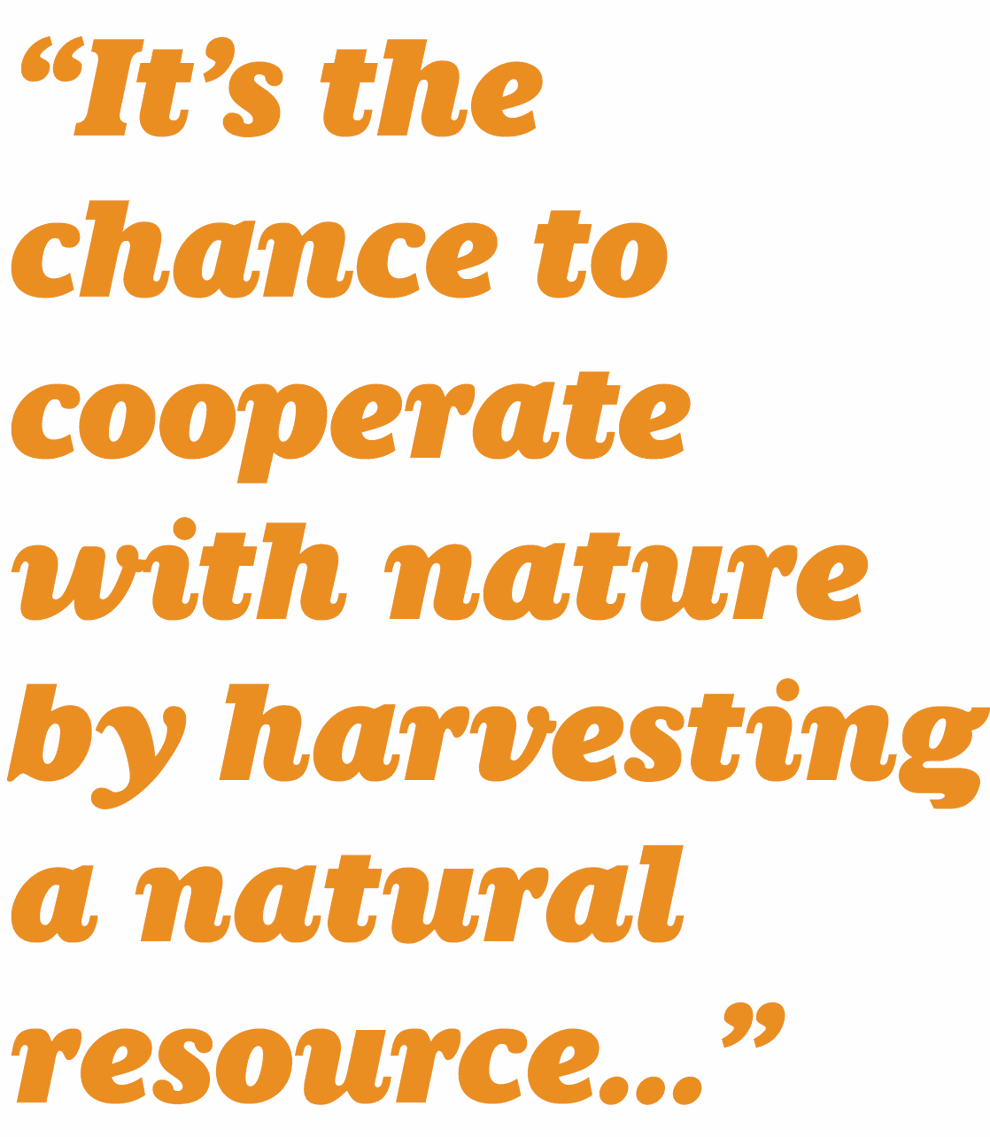 Tired of being cooped up inside all winter, the couple thought it might be fun to get out in the March sunshine to collect some sap from his dad's grove of 20 sugar maple trees in Meadville, Pennsylvania, and try their hand at cooking it down into syrup.
"We had no idea what we were doing," Burkett recalls, "just that, if you drill a hole in a tree and put a bucket under it, something would come out."
That 2001 effort was rudimentary: They simply built a fire, set a cinderblock in the middle, poured the watery sap they'd gathered into a pan and set it on a block to boil for hours. When they finished reducing the liquid on the stove, they ended up with a few gallons of syrup. "It was spring, when there's not much else to do," he says, laughing.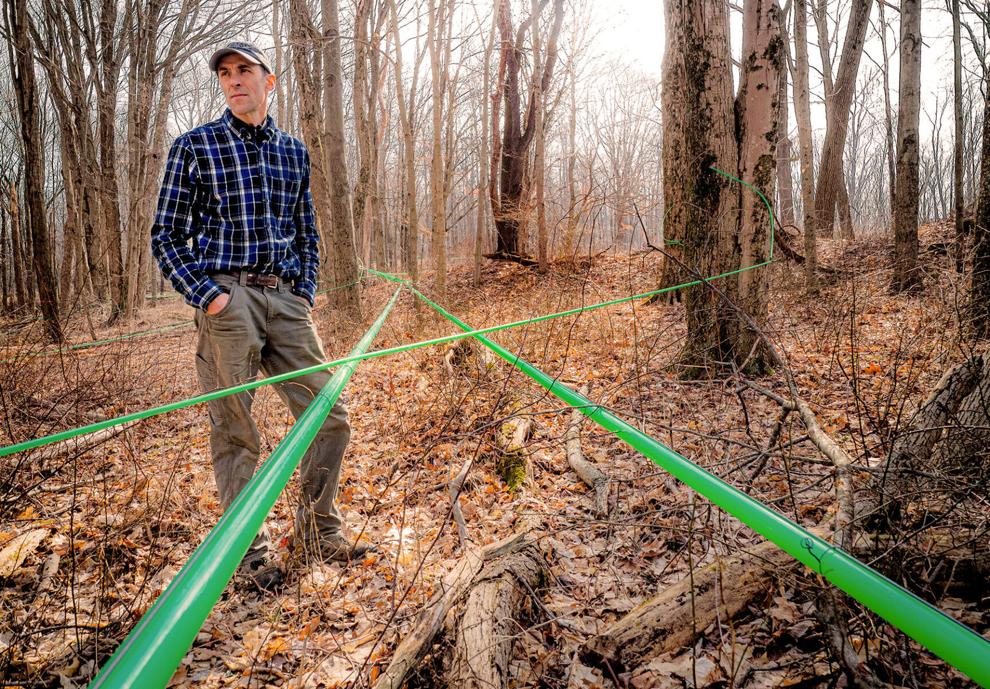 A singular pastime turned lifestyle
His father-in-law, Wayne Hepler, had an idea. Why not continue sugaring on a larger scale using stands of maple trees he owned outside of nearby Titusville?
So the next year, the newly married pair, armed with a copy of Ohio State University's North American maple syrup producers manual, went big. They tapped 1,000 trees and made 250 gallons of syrup.  And Old State Farms was born.
He says, "If you're going to try to make it, you need to make it worth it."
At Old State Farms, the Burketts collect the sap with a plastic tubing system and vacuum pumps that are standard among today's sugarmakers. Buckets take too much time and effort to empty when you're tapping hundreds of maples, and tubing — which carries sap directly from the taps to large collection tanks — is kinder on the environment. "Trucks are hard on the woods and the ecology of the forest," he says.
Today the Old State Farms' sugarhouse produces 1,200 to 1,500 gallons of artisan syrup a year. It taps about 3,500 trees spread over 80 acres in Venango County, making it a medium-sized producer in Pennsylvania.
As a whole, the state produced about 169,000 gallons of syrup in 2020, far less than Vermont's 2.2 million, but still among the top seven syrup-producing states, which are in the Upper Midwest and Northeastern U.S.
Now a father of eight, with another baby on the way, Burkett never intended to make a living off the land, despite growing up on a "hobby farm" with 200 sheep. After graduating from a Christian high school, he studied political philosophy at the University of Dallas; his first adult job was at a loan mortgage servicing company. "But I realized I wasn't cut out for sitting," he says, so he ended up moving back to Pennsylvania and enrolling in law school. He lasted one day. "I just wanted to live in the country and raise a family," he says.  
All in a day's work
Maple sugar season lasts six to eight weeks each spring, but it's intense. So much of the process is weather-dependent. You need nights below freezing followed by days above 40 degrees in order to get a strong sap run. Sap generally starts to flow in mid- to late-February; this year, the season started on February 28. 
On a cool and gray day in mid-March, the sap is still running — and so is Burkett. The temperature has risen from an overnight low of 17 degrees to about 35 degrees. "And yesterday it was almost 50 degrees, and so beautiful," he says, smiling.
By the time he climbs into his F-250 around 9 a.m., he's on his way back to the woods to collect more of the clear, sweetish liquid at a sugarbush — a stand of maple trees used for syrup production — several miles away. He typically picks up sap twice a day, sometimes three if it's running well.
Burkett jokes that the truck is his mobile tool shed, outfitted with everything he might need to fix lines and pumps in the woods. There's also a big plastic tank in the cargo bed into which he'll transfer sap that's being pumped from about 500 trees through three miles of bright-green plastic tubing into a 700-gallon stainless steel Lapierre tank just off the road.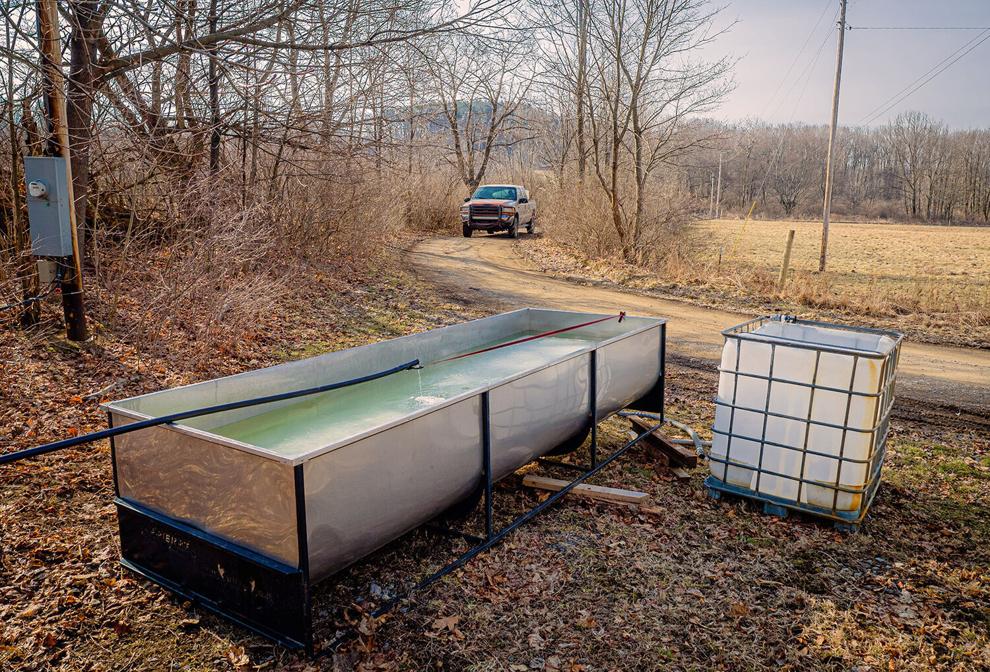 The sugarbush is about a 15-minute walk from the road. As he crunches through the leaves and mud, dodging pricker bushes, his eyes scan the black plastic tubes suspended a couple feet off the ground that run to a pumphouse farther up the hill. He's looking for leaks caused by fallen branches and animals. A high tensile wire helps keep the tubing straight.
In fall, the sugarbush comes alive in glorious shades of orange, yellow and scarlet. On this drab spring day, with its leaves shed, it's all shades of brown. The only jolts of color come from the tubing, which run crisscross through the woods. 
It's incredibly quiet. "Tranquil," says Burkett. "Solitude also comes to mind." Only the occasional bird chirps in the distance.
The trees are tall and skinny and many feet apart, with dark, furrowed bark that curls on one side. Some stretch into the sky, but the forest stand also includes a mix of saplings and mature trees, with dead branches littering the ground in between. Burkett estimates there are about 2,500 trees spread across the 30 acres.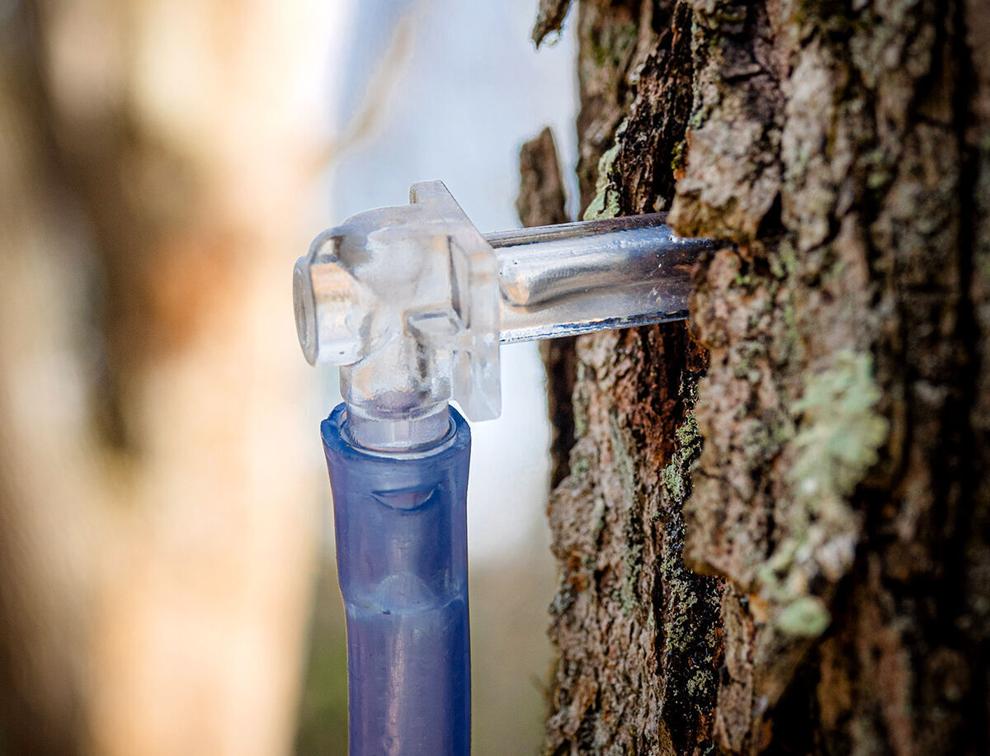 Each of the tapped trees holds a clear plastic spile four to six feet above ground, one per tree, "so as to not stress it," says Burkett. (A new tap hole must be drilled at the beginning of each season.) Each connects via a drop line to a series of lateral lines that deliver the sap downhill to a nearby collection tank. 
Nearly all of the trees hooked up to drop lines are hard sugar maples. Other varieties also can be tapped, though the sugar content is lower. Sugarbushes are best on hills, where gravity can do much of the work, "but there are plenty of those in this part of Pennsylvania," he jokes. 
Bright blue gaiters help keep his feet warm and dry as Burkett hikes through the chilly woods, his bare hands stuffed into his pockets to ward off the morning chill. As he walks among the trees, occasionally stopping to examine a spout or valve, he explains it takes 45 to 60 gallons of sap — which starts out at about 2% sugar — to make one gallon of syrup, which is 67% sugar. He typically gets about 25 gallons of sap per tap over the season.
Flavor, he says, is influenced not only by the trees' chemistry but weather conditions and when during the season the sap is collected. Later in the season, as the trees start to bud in the warming sun, the resulting syrup turns darker and takes on an "off" taste.
Satisfied everything's in good shape, Burkett heads to the pump house, buoyed by some sudden sunshine. He fiddles around, checking gauges and making corrections, smiling when the motor finally kicks on and the sap begins flowing.
He pumps the clear, fresh sap into the plastic tank sitting in the bed of his truck. Ten minutes later, it's back to the sugarhouse for an afternoon of boiling, filtering and bottling. Speed is essential, he says, because sap starts to spoil within 24 hours.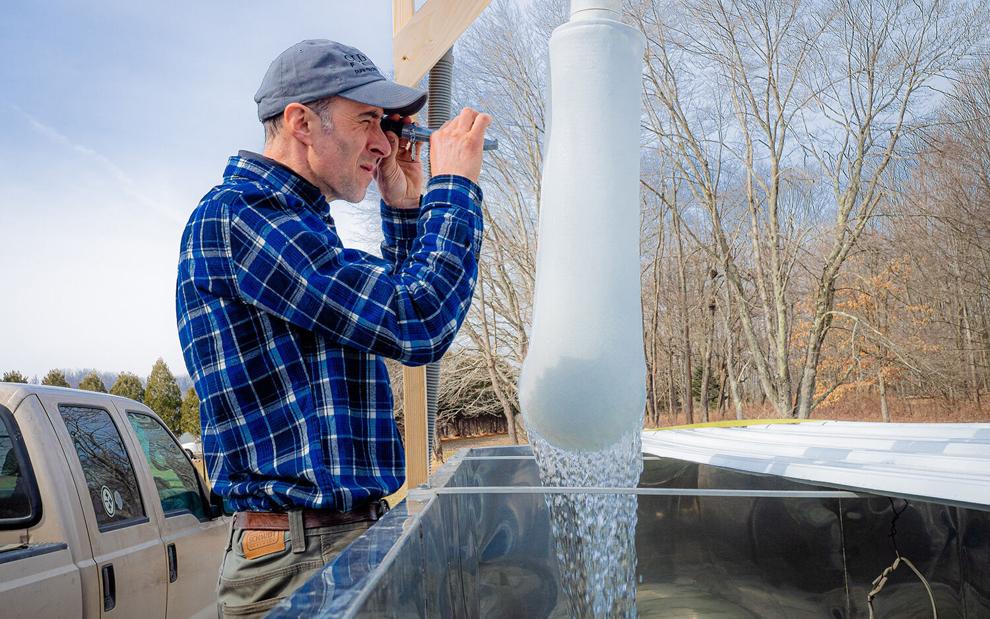 From sap to syrup
Thanks to modern technology, Burkett can turn 750 gallons of sap into 15 gallons of syrup in an hour. The process begins with running the sap through a sock filter before going into a reverse osmosis machine that "squeezes" out 75% of the water. Then it's into a stainless evaporator, the pans of which sit above a firebox fueled by mixed hardwood. As water is removed from the sap, the natural sugars become more concentrated. They also caramelize, becoming darker and more flavorful.
Once it gets going, Burkett feeds the fire every half hour to keep the evaporator humming. As the water evaporates, clouds of sweet-smelling steam waft throughout the room, and the sap thickens.
The choice to use logs instead of fuel oil to boil the sap is an admirable one. It takes longer to heat the evaporator and it doesn't get as hot. You also have to wait until it burns out when you're done sugaring — not to mention splitting and stacking the wood. But, it's a clean, renewable source of energy, says Burkett, and economical, at least for him. "We have access to a lot of tree tops that are too small for saw logs." 
The syrup reaps the benefits, too: Because the syrup takes longer to cook over fire, it develops a more complex, robust maple flavor.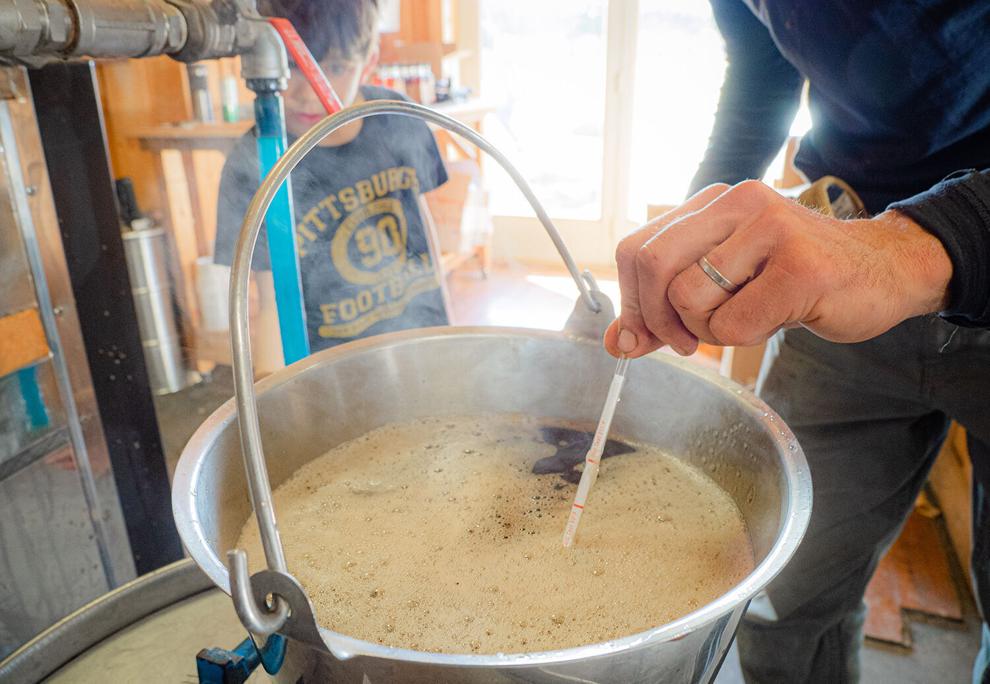 Before long, it's cozy enough inside the rough-cut hemlock walls that he can strip down to his flannel shirt. As the sap boils, he periodically draws some off to check the sugar content with a hydrometer while also keeping an eye on the digital thermometer; an alarm wails if it reaches 220 degrees. Every so often, he defoams the pan with drops of organic safflower oil, as you would a pot of hot jam with a pat of butter.
If the syrup overcooks — there is no off switch on a wood fire — it gets too thick and has to be diluted with more sap. But Burkett is careful, never straying from his perch in front of the thermometer for more than a moment.
When the syrup reaches 219 degrees, Burkett starts drawing it off every 10 to 15 minutes, a few gallons at a time, into food-grade plastic or stainless barrels. A good boil can last eight hours.
Who first made maple syrup, and how is maple syrup graded? We're diving into the sweet sap's history.
"Can you imagine Native Americans used to do this with hot stones?" he asks, referring to a cooking method many historians believe was used by indigenous populations.
Later, when it's time to bottle, he'll reheat the syrup to 190 degrees, filter out the "sugar sand" and grade it for color and flavor before pumping it into the canner. The syrup is hot-packed, 15 gallons at a time, into plastic jugs and bottles, each of which gets an elegant label created by local artist, Rachel Brosnahan, of Singing Sparrow Designs.
Burkett's customers prefer amber maple syrup over the delicate light. He recently started barrel-aging his syrups and infusing others with different flavors like chai, following a growing trend. It's turned out to be a lot of fun, as well as hugely popular. Already it accounts for around 25% of business. 
He'll finish this season's haul of around 1,000 gallons by the first week in April, which will be aged or bottled throughout the year. Unlike with big producers, each bottle will come from a single drum of syrup, never blended, he notes with obvious pride.  He'll sell every drop.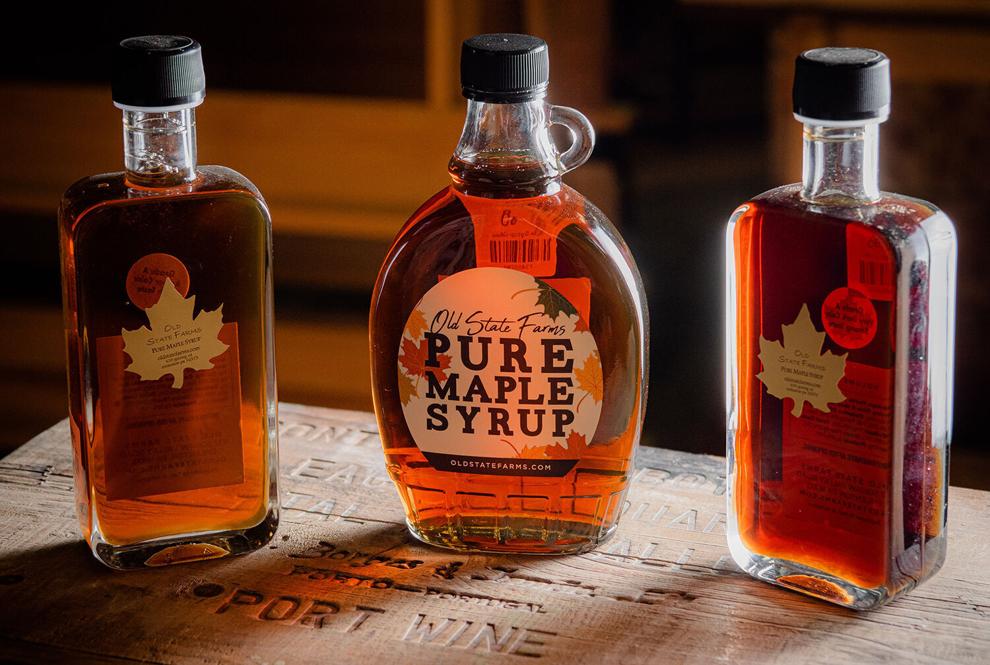 Sweet smell of success
It might seem funny that a guy whose family is in the lumber business uses trees to make maple syrup instead of flooring or furniture. But according to Burkett, the maples are actually more valuable for their sap than lumber. You can start tapping a tree when it's 10 inches in diameter, or around 25 years old.  You'd have to wait another 60 years for it to be harvestable for lumber.
Still, turning sap into syrup can mean working 16-hour days as winter turns into spring. It also means missing out on his kids' basketball games and events like a close friend's recent wedding.
Nevertheless, Burkett loves it.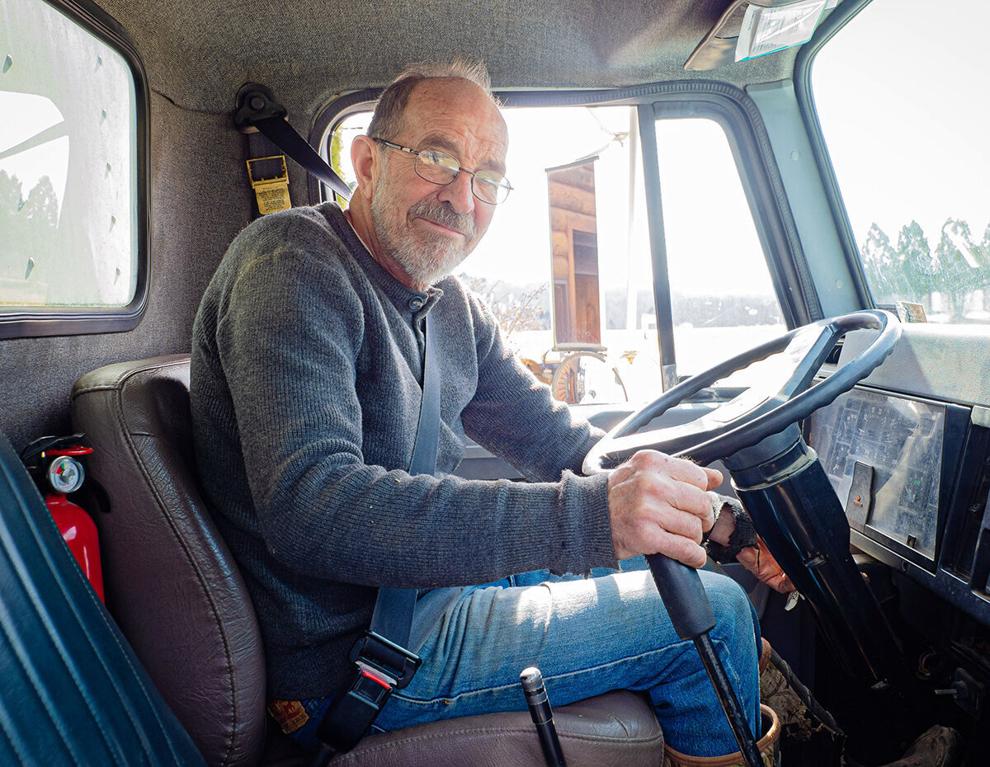 "It's the chance to cooperate with nature by harvesting a natural resource and making it into something that's nourishing and tastes amazing," he says. His father, Ed, has been by his side since the beginning. Burkett says, "I couldn't run this without my dad. He's 75 and can fix anything. He's really been an integral part of the business since the start." Burkett's kids often pitch in to help, allowing him to spend treasured time with family and teach his children the value of work.
"When you smell the syrup in the sugarhouse, and the birds are singing and the sun is shining, I really reflect on what a really great blessing it is to have this opportunity. I see the daffodils blooming and know the season is about to end. I think to myself 'we've made it another year.'"