SHEFFIELD — As manure trucks pass and Holsteins bellow from the barns, dairy farmer Holly Aragi explains to state officials how her farm has monetized manure while managing waste and off-gassing.
"We want to deal with the issues of large-scale farming," she said.
Pine Island Farm is the state's largest dairy farm out of the 110 that, all told, produce 200,000 pounds of milk per year and manage nearly 49,744 acres.
Aragi and her husband, Louis Aragi, work about 1,600 acres of that in the Berkshires — about 900 of which they own — and they have invested in equipment that allows them to produce electricity as well as milk. Aside from net metering credits for power added to National Grid's system, their equipment also turns the manure into soft bedding that helps keep their nearly 1,600 Holsteins healthy.
The Aragis have about 15 full-time workers who play cheerful music in the milking barn to keep the cows "happy." But, the couple are the two who do most of the thinking — and much of the doing — to figure out how to make a living from cows at their third-generation farm.
"There are no outside investors," Holly Aragi told officials from the Massachusetts Department of Agricultural Resources on a chilly, gray Monday afternoon. "We manage everything A to Z."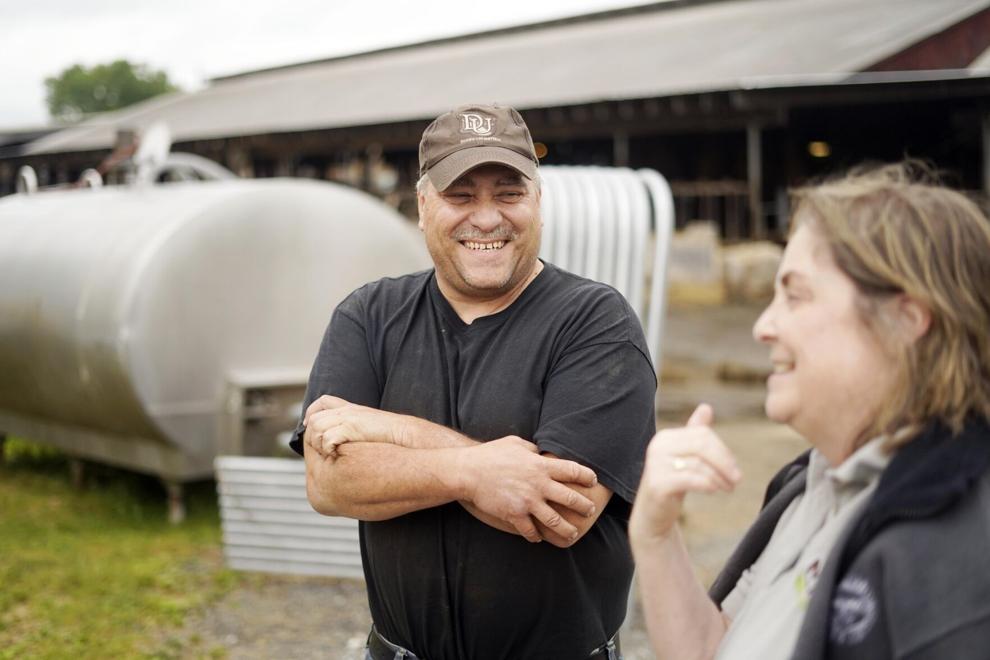 On the occasion of June being declared Massachusetts Dairy Month, agency Commissioner John Lebeaux, Deputy Commissioner Ashley Randle, Director of Agricultural Marketing Mary Jordan and Dairy Promotion Board Coordinator Katelyn Rozenas traveled to Pine Island, as well as nearby Maple Shade Farm/Balsam Hill Farm. Earlier, they visited Thomas Farm & Dairy in Sunderland.
At the end of a tour of the barns, and of the anaerobic digester that converts manure to power, Lebeaux read Gov. Charlie Baker's proclamation honoring the cultural significance of dairy farming, which is "essential to the vitality and diversity of Massachusetts agriculture."
The COVID-19 pandemic exacted its toll. Last year, corn prices rose, the Aragis had to feed some of their milk to the calves, and milk at the dairy cooperative they sell to had to be dumped, though Holly Aragi said she was able to use some in the manure digester.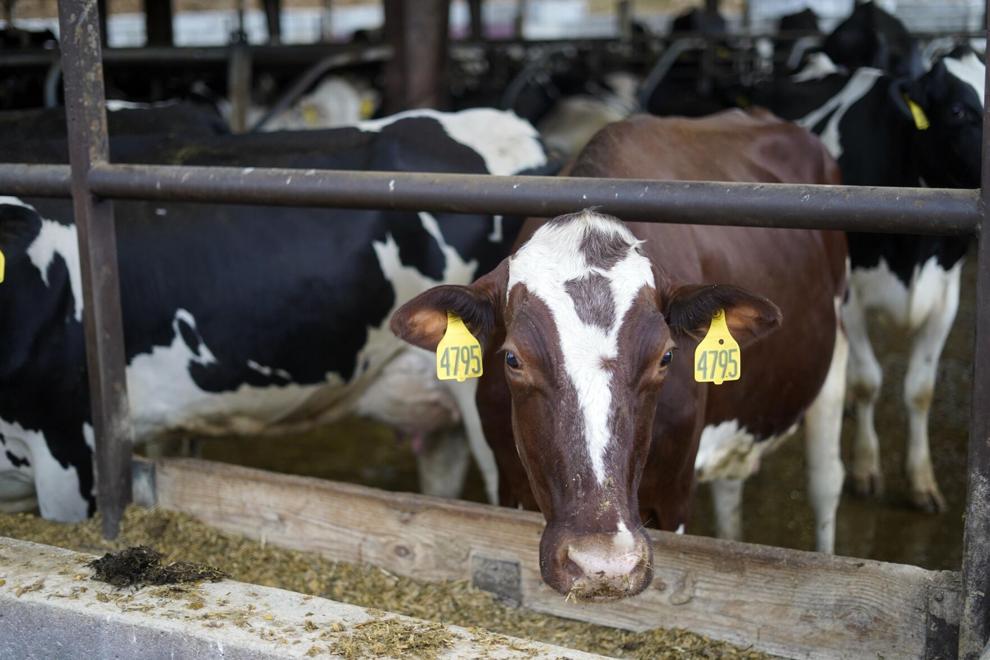 The state and federal governments provided COVID help. And even without the virus, help is there, Lebeaux said, in the form of legislation in 2008 that appropriated $6 million to make payments to farms that begin to sink.
"If the cost of production exceeds the cost of goods sold, it triggers payments," he said. "Almost every month, this happens."
Lebeaux said that, generally, 2020 was an epic year for farms because residents turned to them for food, rather than chance the supermarket.
Local jobs, local food, preservation of open space — these are just a few reasons the state is supporting dairy farms and helping promote their products, Jordan said.
"[Farmers] love what they do, and they want to preserve the land and they are very innovative," she said, walking past a hill of dry manure intended for cow bedding.
Holly Aragi, who grew up on a cattle farm, said she isn't sure which companies use her farm's milk after it is sold to the dairy co-op.
"As long as it's going," she said.